This software stopped working after 30 July 2016 when Habitica's deprecated API v2 was removed.
Information about the API change can be found at Application Programming Interface.
---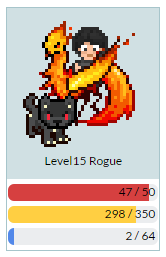 Currently awaiting approval in the Wordpress Plugin Repository.
You can download it from the git repository and upload it to your Wordpress site by going to Plugins -> Add Plugin, and then clicking "Upload", then choosing the zip file you just downloaded and submitting.
To add the widget to your site, go to Appearances -> Widgets and drag the Habitica User Widget to the area you want it to appear in. The "Title" field is optional, and will simply display the text as a header above the image. You do need to grab your User ID and API Key from the Habitica Settings API page and enter them and save. Version 1.1 adds the ability to choose whether to show your username or not. (Version 1.0 would show it if you had no mount, but hid it with a mount.)
Based off of code originally created by gersande and pipcorona in the PHP Character Widget.