Note this article is still under construction

It may not function as expected. Check the discussion for info about its current state.
See Category:Underconstruction for other incomplete templates.
| | |
| --- | --- |
| | Bailey es la pregonera de noticias oficiales, puedes seguirla en Twitter. Las noticias que aparecen en esta página son copia directa y traducciones de las noticias que aparecen en el propio juego (firmas incluidas). Como tales, se distribuyen con la licencia CC-by-NC-SA 3.0. En ocasiones se toman ciertas libertades para corregir faltas de ortografía o ajustar los saltos de línea para adaptar las diferencias de formato. Para ver los anuncios dentro del juego, se puede usar la opción "Mostrar a Bailey" en la sección de ajustes (enlace directo). |
---
Aquí puedes ver todas las noticias de 2019.
¿Quieres ver las noticias de otros años? Entonces echa un vistazo aquí (algunas paginas están en inglés):
2021 | 2020 | 2019 | 2018 | 2017 | 2016 | 2015 | 2014 | 2013
¿Buscando una fecha concreta? Consulta la historia resumida de Habitica en las siguientes páginas (en inglés):
Dec 31, 2014
[
]
Sombreros de fiesta
[
]

Para celebrar el año nuevo, se puede comprar un (gratis) Sombrero de Fiesta en la tienda de equipamiento! Los jugadores nuevos recibirán el siempre-guapo "Sombrero absurdo de fiesta," y los jugadores quienes ya tengan aquel sombrero recibirán el "Sombrero ridículo de fiesta." Estos sombreros serán disponibles hasta el 31 de Enero, pero cuando lo compras lo tendrás para siempre. Que disfruten!
por Lemoness y SabreCat
Tarjetas de año nuevo (Solamente hasta 1 Enero!)
[
]
Hasta el primero de Enero, la Tienda Estacionál (Seasonal Shop) esta vendiendo tarjetas de año nuevo! Ahora puedes mandar tarjetas a tus amigos (y a tí mismo) para desearles un feliz año nuevo habiticano. Todos los recipientes y remitentes recibiran la medalla "Auld Acquaintance"! Cuando recibes una tarjeta, aparecerá en tu inventario (Inventory). Pulsalo para recibir un mensaje estacionál.

por Lemoness y SabreCat
Bolas de nieve
[
]
La tienda estacional también vende bolas de nieve (comprados con oro). Tirandolos a tus amigos crea un efecto chistoso. Jugadores quienes sean pegados con bolas de nieve recibirán la medalla "Amigos molestosos." El efecto de la bola de nieve durará hasta el final de tu día, pero también lo puedes eliminar comprando Sal en la tienda de recompensas. Bolas de nieve serán disponibles hasta el 31 de Enero.
por Shaner, Lemoness, y SabreCat
Ultima oportunidad para el conjunto pingüino
[
]
Recuerdan: es el último día de suscribir para recibir el Conjunto traje pingüino. Si quieres el Sombrero pingüino o el Traje pingüino, la hora es ya! Muchas gracias para su apoyo. <3
---
Diciembre 25 2014
[
]
Conjunto de Diciembre para suscriptores
[
]
Ya hemos revelado el Conjunto Misterioso de Diciembre: El Conjunto Pingüino! Todos los suscriptores de Diciembre recibirán el Sombrero Pingüino y el Traje Pingüino. Todavía tienen 6 días para suscribir y recibir el conjunto! Muchas gracias por su apoyo - nosotros verdaderamente confían en Ustedes para que HabitRPG continua a ser gratis y funcionar sin problemas.
por Lemoness
Tienda estacional: Trajes de invierno y misiones
[
]
Marcando material impropio
[
]
Historia de invierno (continuado)
[
]
---
12/21/2014
[
]
Ya Llegó el Pais de las Maravillas Invernal!
[
]
El invierno ha llegado y la nieve cae lentamente sobre la Ciudad de Habit. Vengan a celebrar con nosotros!
Equipamiento de Invierno
[
]
por Lemoness
Colores De Cabello Invernales
[
]
por Lemoness, crystalphoenix, y mariahm
PNJ Decoraciones
[
]
Parece que los PNJs están disfrutando del invierno. Y porqué no? Todavía hay mucho mas por anticipar!
por Lemoness
---
12/17/2014
[
]
Actualización de Versión Android: Arte de Diciembre y Comprando Gemas!
[
]
por negue
Seasonal Shop Tab
[
]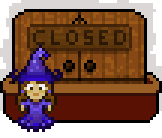 Apareció a una nueva pestaña en la sección de Inventorio: la Tienda de Temporada (Seasonal Shop)! Todavía esta cerrada, pero hay rumores que va abrir pronto...
por SabreCat and Lemoness
Historia de Invierno (continuado)
[
]
---
12/10/2014
[
]
Misión de Mascotas: Pinguinos
[
]

por Melynnrose, Breadstrings, Rattify, Painter de Cluster, Daniel the Bard, y Leephon
Historia de Invierno
[
]
12/3/2014
[
]
Regalando Suscripciónes y Gemas
[
]
Ahora puedes regalar suscripciones y gemas a otros jugadores (en el rincon bajo-izquierdo del perfil de usuario). Si necesitas ideas para regalos para los maravillosos Habiticanos en tu vida, favor de considerar dandoles un suscripción para nuestro bello sitio o unas cuantas gemas. Ellos te agradecerán y nosotros también. <3
(por Lefnire)
Nuevos Benificios para Suscriptores!
[
]
Hemos agregado nuevos beneficios para los suscriptores de largo tiempo. Ahora, cada 3 meses consecutivos de suscripción, tu limite para comprar gemas con oro aumentará por 5, hasta un total de 50 gemas por mes! Además, cada 3 meses consecutivos de suscripción, recibirás 1 reloj de arena místico (Mystic Hourglass). Eso qué hace? Ya verás abajo!
(por Lefnire)
Misteriosos Viajeros del Tiempo
[
]
Si has recibido un Reloj de Arena Místico por ser suscriptor por 3 meses consecutivos, ahora puedes mandar a los Misteriosos Viajeros del Tiempo que te consiguen un Conjunto Misterioso (Mystery Item) desde el pasado! Ser suscriptor por varios meses consecutivos es la única manera de obtener estos conjuntos viejos. Nunca serían accesibles a los no-suscriptores.
(por Lemoness, Megan, Lefnire)
Conjuntos de Steampunk
[
]
Los Misteriosos Viajeros del Tiempo también estan ofreciendo dos nuevos Conjuntos - el Conjunto Normal de Steampunk y el Conjunto de Accessorios Steampunk! Estos conjuntos solo pueden ser obtenidos si tienes un Reloj de Arena Misterioso.
(por Megan)
Suscripciones de Largo Tiempo
[
]
No quieres esperar hasta que acumulas tus meses consecutivos? Ahora puedes suscribir por un periodo fijo de 1 mes, 3 meses, 6 meses ó 1 año. Si suscribes en avance por 1 año, obtendrás un 20% de descuent. ADEMÁS, obtendrás instantemente todos los beneficios de suscripción consecutivo por ese periódo del tiempo (por ejemplo, si compras 6 meses en avance, tu limite para comprar gemas con oro aumentará por 10)!
(por Lefnire)
---