Bailey verkündet die offiziellen Neuigkeiten; Ihr könnt ihr auf Twitter folgen.

Die Neuigkeiten auf dieser Seite sind Übersetzungen der direkt aus dem Spiel kopierten Neuigkeiten (Namenszüge eingeschlossen). Als solche fallen sie unter die CC-by-NC-SA 3.0 Lizenz. Gelegentlich wird sich die Freiheit genommen, Rechtschreibfehler zu korrigieren oder die Zeilenumbrüche an das andere Format anzupassen.

Um Bailey im Spiel anzuzeigen, nutze "Bailey anzeigen" unter Einstellungen (Direkter Link).
---
Hier findet Ihr alle Neuigkeiten aus 2019.
Ihr wollt auch das Neueste aus anderen Jahren lesen? Dann schaut hier vorbei:
2019 | 2018 | 2017 | 2016 | 2015 | 2014 | 2013
Aktuelle Neuigkeiten
Edit
04.01.2019
Edit
JANUAR-HINTERGRÜNDE UND NEUE ITEMS!

Wir haben neue Hintergründe dem Shop hinzugefügt! Euer Avatar kann jetzt an Ausgrabungen teilnehmen, in einer gemütlichen Stube schreiben oder einer gewaltigen Lawine tapfer ins Auge sehen. Holt sie euch jetzt im Reiter Ambiente im Menü "Avatar bearbeiten"!
Und es gibt neue Ausrüstung, die ihr mit Gold kaufen könnt, wie z.B. das Schreiberset! Jetzt lieber schnell an euren Real-Life-Zielen arbeiten, um sie euch zu holen! Viel Spaß :)
by Lt. Cabel, KusSv, Snowdeath, Timsh, Vampitch, mewrose, GeraldThePixel, and SabreCat

---
02.01.2019
Edit
NEUJAHRSVORSATZ-CHALLENGE UND NEUE TAKE THIS-CHALLENGE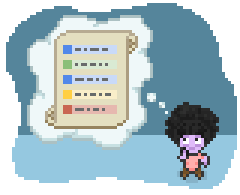 Das Habitica-Team hat eine neue Challengereihe für euch! Dreh- und Angelpunkt dieser wird die Official New Year's Resolution Guild sein. Die Challenges werden euch helfen, neue Gewohnheiten zu formen, damit euer 2019 erfolgreich wird. - Und natürlich auch diese während des Jahres beizubehalten!
Mach mit bei der ersten New Year's Resolution Challenge dieses Jahres: Begin Your Quest, um dieses Jahr zu einem erfolgreichen zu machen. Zuerst widmen wir uns der Frage: "Wie setzt man realistische Ziele?". Fünf glückliche Gewinner werden am 1. Februar 15 Edelsteine erhalten.

Herzlichen Glückwunsch an die Gewinner der letzten Take This-Challenge: Drosera, Dan O'Dea, StefanieFreige, N5t5lie, und DeLauraen!

Die nächste Take This-Challenge ist auch schon erschienen! In "Feed Me, Seymour!" wird es darum gehen, sich gesünder zu ernähren. Macht unbedingt mit, um ein weiteres Teil der Take This-Rüstung zu erhalten!

Take This ist ein nonprofit Projekt, welches die Gamercommunity über psychische Probleme informiert, um so zur Prävention von psychischen Störungen und Erkrankungen aufzuklären.
Glückwunsch an die Gewinner der letzten Take This-Challenge "Don't Be a Completionist!": Hoofter! Die fünf Edelsteine gehen an runners-up! mvchelle, Phosphor, agentdwib, KSPanda und fghberius bekommen je zwei Edelsteine. Außerdem bekommt jeder Teilnehmer - der noch nicht alle hat - ein Teil des Take This-Itemsets (Es befindet sich im Reiter "Belohnungen")! Viel Spaß damit!
by Doctor B, the Take This team, Lemoness, Beffymaroo, and SabreCat

---