Dee Cee on Habiticia. I have tried nearly every productivity system, but currently use a combination of: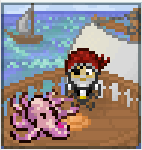 GTD in Trello
Habitica for more personal stuff (Habits, Dailies) that doesn't fit easily into the GTD metaphor
Pomodoro Technique for fine-grained time management.
In my spare time (hah!!) I play guitar and ukulele, practice Yoga and try to stay fit, and occasionally get seduced into developing open source software. I mean, I design and write software all day long at work, so what could be better than doing more of the same at home?
My current Hard-mode Code of Conduct.
My party, the Pathfinders. I inherited leadership of this party, and since then I have been working to make it a fun and motivating place for active Habiticians.
Self-imposed Challenges. I love the idea of augmenting the game with additional creativity, rules, and challenges. I used to play computer RPG's in the same way.
My GitHub profile. Here you will find all the Habitica integrations I am working on (except the Hide Reward Items).
Community content is available under
CC-BY-SA
unless otherwise noted.