Trapper Santa is a quest with an eponymous boss. It was the first quest in Habitica with the first available boss, and was released as part of the Winter Wonderland event. It was originally available from December 25, 2013 through January 31, 2014. Existing players who logged in during the quest's initial release (December 25, 2013) automatically received this scroll, and it could also be purchased from the Market for 4 gems.
While the scroll has been available again in the Seasonal Shop during Winter Wonderland 2014 - 2016, there's no guarantee that it will be available at every winter event. There is no time limit for using the scroll once purchased. Trapper Santa is part of the only quest line with just 2 quests in it; the second quest is Find the Cub.
Trapper Santa's HP (300) makes this a short quest and its strength multiplier (1) makes this a trivial quest. Without using Warrior or Mage boss damaging skills, a four-person party can typically finish this quest in about a week. This quest is recommended for lower level (less than level 25) characters and smaller parties.
Description
[
]
You hear agonized roars deep in the icefields. You follow the growls - punctuated by the sound of cackling - to a clearing in the woods, where you see a fully-grown polar bear. She's caged and shackled, fighting for her life. Dancing atop the cage is a malicious little imp wearing a castaway costume. Vanquish Trapper Santa, and save the beast!
Objective(s)
[
]
Defeat Trapper Santa.
On Completion
[
]
Trapper Santa squeals in anger, and bounces off into the night. The grateful she-bear, through roars and growls, tries to tell you something.
You take her back to the stables, where Matt Boch the Beast Master listens to her tale with a gasp of horror. She has a cub! He ran off into the icefields when mama bear was captured.
Rewards
[
]
Promotional Art
[
]
Artwork featuring the The Trapper Santa was created for the official blog and social media.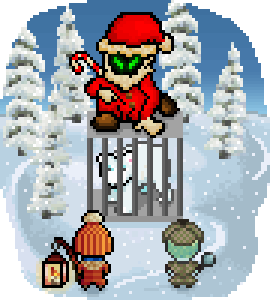 Trapper Santa ➣ Find the Cub
Development and Credits
[
]
Release date: December 25, 2013
Writers: Lefnire
Artists: Scroll - UncommonCriminal, Boss - Pandoro, Mount - Shaner