The Push-and-Pull Peacock is a quest with an eponymous boss. Defeating this boss will unlock the Peacock Quest Pet. The quest scroll can be purchased from the Quest Shop for 4 gems.
The Push-and-Pull Peacock's HP (300) makes this a short quest and its strength multiplier (1.5) make this an easy quest. Without using Warrior or Mage boss damaging skills, a four-person party can typically finish this quest in about a week. This quest is recommended for lower level (less than level 25) characters and smaller parties.
Description
You trek through the Taskwoods, wondering which of the enticing new goals you should pick. As you go deeper into the forest, you realize that you're not alone in your indecision. "I could learn a new language, or go to the gym..." @Cecily Perez mutters. "I could sleep more," muses @Lilith of Alfheim, "or spend time with my friends..." It looks like @PainterProphet, @Pfeffernusse, and @Draayder are equally paralyzed by the overwhelming options.
You realize that these ever-more-demanding feelings aren't really your own... you've stumbled straight into the trap of the pernicious Push-and-Pull Peacock! Before you can run, it leaps from the bushes. With each head pulling you in conflicting directions, you start to feel burnout overcoming you. You can't defeat both foes at once, so you only have one option -- concentrate on the nearest task to fight back!
Objective(s)
Defeat the Push-and-Pull Peacock.
On Completion
The Push-and-Pull Peacock is caught off guard by your sudden conviction. Defeated by your single-minded drive, its heads merge back into one, revealing the most beautiful creature you've ever seen. "Thank you," the peacock says. "I've spent so long pulling myself in different directions that I lost sight of what I truly wanted. Please accept these eggs as a token of my gratitude."
Rewards
Quest Pets and Mounts
The eggs obtained from this quest can be used to raise the Peacock pets and mounts.
Peacock Pet
Peacock Mount
Base
White
Desert
Red
Shade
Skeleton
Zombie
Cotton
Candy
Pink
Cotton
Candy
Blue
Golden
Promotional Art
Artwork featuring the Push-and-Pull Peacock was created for the
official Habitica blog
.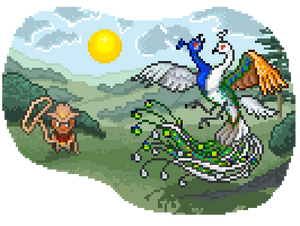 Development and Credits
Release date: March 14, 2017
Writers: Elizabeth Queenan
Artists: Scroll - McCoyly   Boss - Pfeffernusse   Egg - Draayder   Mount - Lilith of Alfheim and PainterProphet   Pet - Cecily Perez   Promo Art - Podcod