This is a featured article!
This page was featured as part of the Wiki Wednesday series. Once a month, Habitica staff highlight a helpful post from the Wiki with tips about productivity, wellness, and optimizing your use of Habitica!
---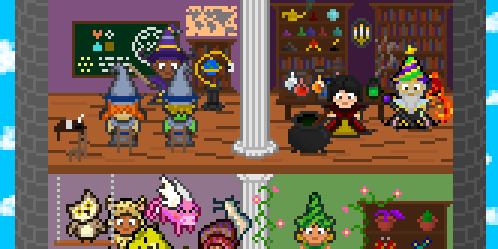 The Magi have always been mysterious folks. Centuries of research and attunement have revealed Tips & Tricks to cope in the world of Habitica.

This is a place to share your general productivity tips as well as to present ways you have customized your version of Habitica.
The Keep:
Index
> The Mage's Tower
View recent changes for this forum
---
| Topic | Last Edit | Last Author |
| --- | --- | --- |
| Vanilla Habitica Tips & Tricks | 07:56, February 3, 2019 | PurpleCitrusTagBOT |
| Rogue Guide | 10:23, January 16, 2019 | 83.134.2.32 |
| Buying Gems with Google Play credit earned through Google Rewards | 16:47, January 13, 2019 | DipperDolphin |
| Handy Tips to Manage Damage and Avoid Death in Habitica | 20:45, November 9, 2018 | Taldin |
| Merfy's Rogue guide | 03:14, October 12, 2018 | 107.200.2.93 |
| Mage Guide | 18:56, August 12, 2018 | Flapyj01 |
| Warrior Multi-Class or Brutal Smash (any class) | 13:56, April 28, 2018 | Gryphonknight |
| Gaming the Mana System | 14:22, April 6, 2018 | JosephK9 |
| Newb Guide | 14:14, February 10, 2018 | Kent12t |
| Dealing with Variable Goals | 11:05, February 8, 2018 | CTheDragons |
| Scheduling Quest Starts with Zapier and API | 15:25, January 22, 2018 | JosephK9 |
| Healer Guide | 20:20, January 20, 2018 | Piti the Grey |
| Maximize your gift subscriptions | 02:06, January 9, 2018 | JosephK9 |
| Poisoned People (You Are Poisoned ! Challenge) | 18:46, November 7, 2017 | CTheDragons |
| Warrior Guide | 07:58, October 3, 2017 | 2A00:23C5:3186:E200:F92B:6F7A:7044:73FD |
| Achievement/Completion Guide | 20:34, September 6, 2017 | 24.143.67.82 |
| Tips for Rogues in Boss Fights | 01:24, August 4, 2017 | CTheDragons |
| Webmuskie's Guide to Being an Effective Quest Healer | 16:23, June 15, 2017 | Tanelfr |
| Custom attributes | 12:06, April 17, 2017 | Sonnet73 |
| Multi-Class Guide by Gryphonknight | 03:45, February 14, 2017 | Sonnet73 |
| RPG Names and End Game Assessments | 02:04, January 27, 2017 | LadyAlys |
| Bonus Habit | 03:21, January 18, 2017 | 66.18.164.213 |
| Handy Healer Trick- Gryphonknight's Mana Spike Guide (improve mana & damage) | 11:30, August 14, 2016 | LadyAlys |
| Webpage and Pomodoro | 12:40, July 22, 2016 | PirateDC |
| Endgame Playstyle | 11:57, February 27, 2016 | LadyAlys |
| Potentially Effective Life Hacks | 21:37, December 22, 2015 | LadyAlys |
| For GTDers, how do you organize projects? | 13:39, December 7, 2015 | LadyAlys |
| Using Tasker and the Pomodroido App to Gain EXP | 03:05, December 7, 2015 | LadyAlys |
| Ideas for Tracking Sleep and Bedtimes | 13:07, November 3, 2015 | Purplatypus |
| Mac Users: HabitRPG.com in dock with Fluid | 23:34, November 1, 2015 | Cluelass |
| Optimize Habitica's features | 03:38, September 19, 2015 | Taldin |
| Monthlies in Habitica | 01:36, September 19, 2015 | Mystic Guardian |
| Multiple Users and Kids | 15:39, September 14, 2015 | FragmentalStew |
| Creating shortcuts to Habitica | 01:10, August 14, 2015 | Chikken's Mommy |
| Habitica in a Browser Side Panel | 20:58, July 31, 2015 | Teh.maxh |
| Caffeinated Badge | 19:22, June 5, 2014 | JessicaChase |
| Unrewardable habits | 11:42, February 11, 2014 | Breadstrings |