The Kick Ass Crusaders is a very active questing party that was founded in April 2014 by Jeremy who still leads it today. With over 200 quests completed since its beginning, the Kick Ass Crusaders are constantly fighting against all manner of bad habits, subversive tendencies, and ill-gotten dispositions.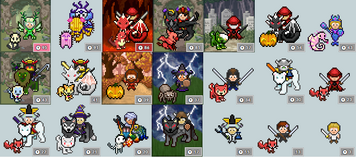 General Information
Edit
The Kick Ass Crusaders pride themselves on being open minded, treating every Crusader as an equal, and remaining clique-less. Every Crusader's voice is carries the same weight. 
We are constantly questing. Any Crusader can ask for a quest to be added and when the time comes that quest will be started. If the asking Crusader doesn't have, nor can afford, the appropriate quest scroll then another Crusader will purchase and start that quest for them. To learn more about questing with the Kick Ass Crusaders check out our quest info - Here
The Kick Ass Crusaders band together to get help and support as needed, give help and support when able, and have fun doing it.
Recruitment

Edit
To maintain a high level of cohesion, the Kick Ass Crusaders recruit small numbers at a time. With limited additions of new members the party can get well acquinted with the fresh recruits and they too can get acquinted with the party. The relationship with the party and the party members should be of mutual benefit.
All those who wish to joined the ranks of Crusaders should check out the recruitment thread found - HERE
Those with an urgent need to contact the Kick Ass Crusaders are adviced to contact their leader Jeremy on his wall.
Community content is available under
CC-BY-SA
unless otherwise noted.