This is a featured article!
This page was featured as part of the Wiki Wednesday series. Once a month, Habitica staff highlight a helpful post from the Wiki with tips about productivity, wellness, and optimizing your use of Habitica!
---
This page contains some examples of Habits to help you develop your own.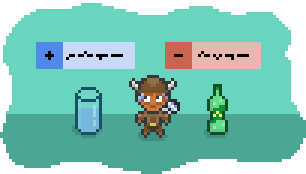 Business
[
]
Business Habits revolve around a productive work environment, and a change here can help increase effectiveness at work.
Discussion with Colleagues
Prepare 1 Document for Client
Call Clients/Put Off Phone Calls
Healthy Habits
[
]
These are generally considered to be part of a healthy lifestyle and can be helpful if trying to drop an unhealthy habit.
Gratitude/Affirmation Journal Entry
Housework
[
]
These habits offer rewards upon completing chores or other tasks around the house.
Put Dirty Clothes in Hamper
Wash and Dry a Load of Clothes
Productivity
[
]
Habits concerning general productivity. These can include certain methodologies that are outlined in this wiki.
Followed Schedule Properly
To Do +Swiftly Done, -Overdue
Environment
[
]
To get in the habit of being "green", keep these Habits green or better.
Power Off Devices Not In Use
Turn Off Unneeded House Lights
Self-Improvement
[
]
Habits designed for general self-improvement.
Read an Informative Article
Study
[
]
These are specifically designed for students.
Habitica
[
]
These are used to improve/change the way you use Habitica. Depending on how and when you want to schedule these tasks, they could alternatively be Dailies.
Learn something new about Habitica
Review and update Habits' difficulty
Review and update Dailies' difficulty
Read a Challenge's description
General Tips
[
]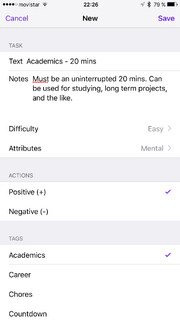 Habits are not easy things to make or break. In fact, research shows it can take anywhere from 20 to 30 days just to start changing a habit,[1] and from there it takes continued repetition to keep the habit firmly ingrained.[2] While studies show that habits take approximately 21 days to ingrain,[3] newer research suggests that it may take about 66 days to create a long-lasting habit.[4] To help with this, there are a multitude of habit-trackers so people can track habits that are being worked on, but Habitica goes to the added step of gamifying habits to help players find different types of motivation to continue working on the habits they want to form.
Naming your tasks is important to ensure that you can keep yourself accountable for reaching goals.
Not everything will be a Habit. If trying to decide whether to make something a Habit, a Daily, or a To Do, keep this in mind:
Habits are actions that are performed daily, or even multiple times a day, in daily routine,
usually occur unconsciously, and
take time and effort to change.
If the task is something that should happen every day, certain days a week, or every X days, it should be a Daily. If the task only needs to happen once before it is done, or repeats rarely (e.g. once a year), it should be a To Do. If the task is something that happens every day whether you want it to or not, it is most likely a Habit that can be changed. Take a look at the examples above for some ideas.
Other tips:
Sometimes you'll find that a Habit should have different difficulties for the good (+) and the bad (-). One method is to average the two difficulties, and use the median value for the Habit's difficulty. For example, if the + has a Hard difficulty, and the - has a Trivial difficulty, you could set the Habit's difficulty to Medium.
Another method to use when a Habit's + and - have different difficulties is to break the Habit into two: one that's a + only, and one that's a - only. For example, you may have a Habit you're really good about doing, but sometimes forget. Perhaps when you forget, it's a big problem (e.g. filling up your car with gas), or you really want to secure the Habit as a good one (ending instances where you fail to do the Habit). Then you could set the difficulty of the + to Trivial, while setting the difficulty of the - to Hard. This way you still get rewarded when you remember, but you will really feel it when you forget.
Keep in mind that tasks' difficulty vary from user to user. Running a 5k might be Trivial to some, but Hard for others. Painting a picture could be Easy for an artist, but Hard for a nonartist.
Instead of using difficulty as a gauge for how laborious a Habit is, you could use difficulty as a reward/punishment. For example, if you want to stop picking your lip, you could make the Habit Hard even though the act is arguably Trivial. This way, you get a sizable reward for not picking your lip and a harsh punishment for picking.
See Also
[
]
References