This is a featured article!
This page was featured as part of the Wiki Wednesday series. Once a month, Habitica staff highlight a helpful post from the Wiki with tips about productivity, wellness, and optimizing your use of Habitica!
---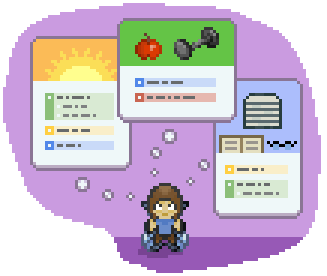 This page contains some examples of Dailies to help you develop your own.
These are examples of Dailies, specifically business oriented:
Update Tracking Spreadsheet
These sample Dailies can help keep you motivated and on-track with your exercise and health goals.
1 hr Weight Training (Sun Tue Thu)
1 hr. Cardio (Mon Wed Fri)
These are examples of Dailies that can help increase or maintain your overall well-being.
These sample Dailies deal with cleaning and maintaining your home.
Education and Mental Fitness
[
edit
|
edit source
]
These sample Dailies deal with studying, training your brain, and memorizing things.
Finish Homework Before 06:00 pm
Complete 1 Chapter of Course
10 min Brain Training (Riddles, Quizzes, etc.)
What is my new cellphone number?
As shown in the last example, Dailies can also be used as flashcards to memorize important things. (The idea is to check off the Daily if you can answer the question correctly without looking up the answer first.) The answer can be written into the Daily's Checklist. Please keep in mind though that other Habiticans can read this if the Daily belongs to a challenge.
These Dailies were mentioned in the Tavern as giving immediate help, making other choices easier, and bringing a sense of relief.
Uninterrupted Toddler Time
These sample Dailies involve your interactions with others and can help ensure that you stay connected and involved.
Attend Group Meeting T W F
Update Personal Social Media
Say Hi to Someone In Person
Take Dog to Dog Park M Th Sat
Tell Someone Why They Matter to You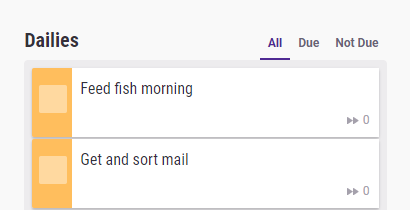 Dailies are recurring tasks in Habitica. These are the tasks that need to be taken care of either daily, or at regular intervals, or on specific days of the week. There are differences between a Daily, a To Do, and a Habit. For a task to be a Daily, it normally needs to meet the following criteria:
The task can be scheduled,
The task recurs at regular times (daily or "every x days" or on certain days of the week), and
The task has a measurable goal that can be checked off and forgotten about until the next day.
The initial setup of Dailies can also be difficult as it often includes naming your tasks. Each task needs to be named so that the purpose of the task is clear, while also ideally describing how flexibly it can be fulfilled and having some entertainment value. Each Daily can be edited in the settings in order to make sure the task will be active only on the days required (although you can still complete and check it while it isn't an active task).
Some examples of Dailies in different aspects of life are listed above.
Community content is available under
CC-BY-SA
unless otherwise noted.