This is a featured article!
This page was featured as part of the Wiki Wednesday series. Once a month, Habitica staff highlight a helpful post from the Wiki with tips about productivity, wellness, and optimizing your use of Habitica!
---
The Rogue is a class that citizens of Habitica can choose when they reach level 10.
Rogues earn more gold and find drops more often than other classes. They also earn more frequent and rewarding critical hits. Their skills can generate gold and experience from tasks, provide their party with a buff to gold and drop earning rate, and allow the Rogue to dodge damage that originated from missed Dailies. They are valuable allies to have in collection quests.
Benefits
[
]
In short, the Rogue is a good class for those who are not interested in becoming a Healer, but still want to be able to survive relatively well while gaining lots of items and GP when a task is completed. This is ideal for people who want to unlock the best possible gear as soon as possible. This also benefits people who have custom Rewards and people attempting to earn the Beast Master achievement.
Skills
[
]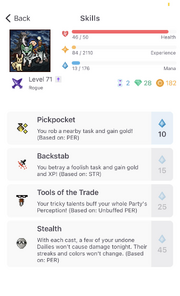 All skills' effects are based on the caster's stats at the time of casting, not on the attributes of other party members.
Some skills are also affected by the value of the task they are cast on.
Some skills adjust the value of the task they are cast on. They have no ongoing effect on the task.
Skills never mark a task as complete. You do not have to complete a task before or after casting a skill on it. You can cast a skill on a complete or incomplete task.
All skills that buff the party also buff the caster, unless stated otherwise.
Buffs are applied immediately and persist until each party member's next Cron.
Skills do not affect quests, unless stated otherwise.
Consult the "Skills and Buffs" section in the Data Display Tool to learn more about the precise effect each skill will have when you cast it.
Equipment
[
]
Rogues wield a weapon in each hand. While they can use shields and two handed weapons from the other classes or from non-class sources such as Quests or the Enchanted Armoire, only Rogue equipment will give a class bonus. The weapon that is used in the shield-hand slot is purchased separately.
Gathering all the Rogue Basic Gear gives players the Ultimate Gear - Rogue achievement. It costs 1340 gold to buy the whole set of basic Rogue gear.
The tables below show the pieces of equipment that can be purchased through the Rewards column by players who do not already own them.
Grand Gala Equipment
[
]
This table shows the special Rogue gear from all Grand Galas. These equipment sets are available for purchase in the Seasonal Shop, which opens during each Grand Gala. At that time, newly released equipment sets can be purchased with gold, and equipment sets from previous Grand Galas can be purchased with gems.