This is a featured article!
This page was featured as part of the Wiki Wednesday series. Once a month, Habitica staff highlight a helpful post from the Wiki with tips about productivity, wellness, and optimizing your use of Habitica!
---
A Mystic Hourglass is a special item given to subscribers who maintain a three-month consecutive subscription.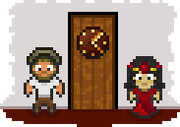 Using a Mystic Hourglass summons the Mysterious Time Travelers who will allow you to select a Mystery Item set from previous months, a pet or mount from previous World Boss events, or an exclusive future Mystery Item set, such as the Steampunk Standard Set which will be widely available in the year 3015.
You can use your Mystic Hourglasses by navigating to Time Travelers in the Shops section of the website or mobile apps.


If you own any Mystic Hourglasses, the quantity will be shown with an Hourglass icon in the website's toolbar and in the header of the mobile app. If you do not own any Mystic Hourglasses, the icon will not be displayed.
You will be given a Mystic Hourglass for each three consecutive months of subscription. For information about when the Hourglass will be delivered to your account and other benefits of subscriptions, please refer to the Bonus Benefits for Longer Subscriptions section in the Subscription page.
Please note that the subscription months MUST be consecutive. If your subscription is cancelled and you do not start a new one before the subscription benefits expire, the month count will drop back to zero.
Information for Developers
This section contains information of interest to Habitica developers. It is not of use for normal gameplay or task management.
Hourglasses are referred to as trinkets in the code.
In Habitica's database and in the data extracted from the database using the API, the number of unused Hourglasses that a subscriber has is stored in the purchased.plan.consecutive.trinkets field.
If you want to test things requiring Mystic Hourglasses in your local install, you can give Hourglasses to your test account by using the "Add Hourglass to the current user" item in the Debug menu in the footer of the website.