This is a featured article!
This page was featured as part of the Wiki Wednesday series. Once a month, Habitica staff highlight a helpful post from the Wiki with tips about productivity, wellness, and optimizing your use of Habitica!
---
The Mage (previously known as the Wizard) is a class that citizens of Habitica can select when they reach level 10. 
Mages gain experience and mana points (MP) faster than other classes, and also have good rates of earning gold and drops. Mages can cast skills on tasks to deal additional damage to bosses or preserve their own streaks. Mage skills can also affect the player's party by buffing Intelligence or restoring other party members' MP. They are powerful allies to have for dealing damage and recharging skills during boss battles.
Benefits
[
]
Mages can level up faster than other classes, since their primary stat is Intelligence. Leveling up restores HP and provides stat points.
The Chilling Frost skill provides the unique ability to "freeze" streaks. This may be valuable to players who value long streaks and feel that it's okay to allow an occasional lapse without losing their progress. It is also the only skill in the class system that is not based on a stat.
The Burst of Flames skill deals damage to bosses as well as giving experience.
Mages can also increase the party's Intelligence (increasing their rate of experience gain) and restore their companions' mana points (MP). This can motivate party members to be more aggressive in completing their own tasks, or it can allow any of the other classes to use extra skills in an emergency.
Skills
[
]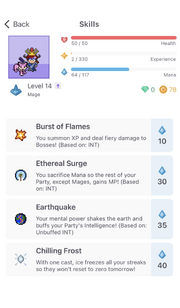 All skills' effects are based on the caster's stats at the time of casting, not on the attributes of other party members.
Some skills are also affected by the value of the task they are cast on.
Some skills adjust the value of the task they are cast on. They have no ongoing effect on the task.
Skills never mark a task as complete. You do not have to complete a task before or after casting a skill on it. You can cast a skill on a complete or incomplete task.
All skills that buff the party also buff the caster, unless stated otherwise.
Buffs are applied immediately and persist until each party member's next Cron.
Skills do not affect quests, unless stated otherwise.
Consult the "Skills and Buffs" section in the Data Display Tool to learn more about the precise effect each skill will have when you cast it.
The four skills mages have are
Equipment
[
]
Mage weapons are the only class-specific two-handed items in the game. They use both the weapon slot and the shield/off-hand slot. Equipping a Mage weapon will automatically unequip your shield or off-hand weapon, meaning that you cannot use an item in the off-hand slot if you are using a Mage weapon. Conversely, if you equip a weapon or shield in your off-hand slot, it unequips the Mage weapon. You will see a message: "(Mage Weapon Name) takes two hands."
Gathering all the Mage Basic Gear gives players the Ultimate Gear - Mage achievement. It costs 1210 gold to buy the whole set of basic Mage gear.
The tables below show the pieces of equipment that can be purchased through the Rewards column by players who do not already own them.
Grand Gala Equipment
[
]
This table shows the special Mage gear from all Grand Galas. These equipment sets are available for purchase in the Seasonal Shop, which opens during each Grand Gala. At that time, newly released equipment sets can be purchased with gold, and equipment sets from previous Grand Galas can be purchased with gems. The items sold in the Seasonal Shop are only available when the sale is going on.