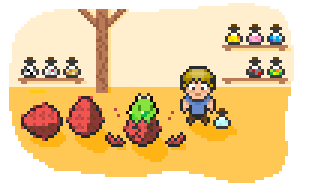 Players can use Hatching Potions to hatch pets by combining potions with eggs. The egg determines the type of pet that will hatch, and the potion determines its color or other physical attributes (e.g., skeleton or zombie). Any pet (except for rare pets) can be hatched with any standard potion.
All standard potions are available as drops that players receive randomly for completing Habits, Dailies, and To Do's once they have completed their second task. Players can also purchase hatching potions in the Market for gems, or sell them for gold. Some quests also offer hatching potions as rewards. The potions range in value from Base, which hatches a normal pet and sells for 2 gold points, to Golden, which hatches a cheerful golden-colored pet and sells for 5 gold points.
Magic Hatching Potions give additional color options to the nine standard pets and mounts. Most have the same shape as the base image, though some have minor modifications like decorative wings on the Fairy pets and mounts, forehead hearts on the Cupid ones, or sand piles instead of legs on the Sand Sculpture ones. The exception to this rule is Wacky potions, which are a set of magic hatching potions generated from April Fool's pranks and which drastically change both shape and color of pets. (Wacky potions do not have mount versions.) Unless otherwise noted, once unlocked all magic hatching potions can be bought for two
, and sold for two
.
Drop Probability
[
]

When a potion drops, the type of potion is determined randomly. Different types have different drop probabilities:
40% chance of receiving a Base, Desert, or White potion
30% chance of receiving a Red, Shade, or Skeleton potion
23.33% chance of receiving a Cotton Candy Blue, Cotton Candy Pink, or Zombie potion
6.67% chance of receiving a Golden potion
Note that due to the random nature of drops, individual users may receive certain potions at higher or lower rates than those quoted above.
Using Potions
[
]
Under the Inventory tab, you will see the potions you currently own. Click on a potion to use it. Once clicked, any eggs that you can hatch with that potion will be highlighted in purple. Click on a highlighted egg to use the potion; this will bring up a prompt confirming that you would like to hatch the egg using said potion.
If an egg is not highlighted, that means that you already have a pet of that type that was hatched with the potion you have selected. (For example, if you already have a red wolf, clicking on a red hatching potion will not highlight any wolf eggs in your inventory.) Should you attempt to use the potion to hatch an unhighlighted egg anyway, you will receive an error, and will not lose the egg or potion. However, once you have upgraded a pet to a mount, you may hatch a second pet of that type to replace it, enabling you to have a pet and mount of the same species and color at once.
Players can also sell excess potions. Detailed instructions for how to do so in a browser or the mobile app are available here.
Available Standard Hatching Potions
[
]
Hatching Potions
Gem Price


Sell Price


Base
2
2

White
2
2

Desert
2
2

Red
3
3

Shade
3
3

Skeleton
3
3

Zombie
4
4

Cotton Candy Pink
4
4

Cotton Candy Blue
4
4

Golden
5
5
Magic Hatching Potions
[
]
Magic Hatching Potions are any potions beyond the 10 basic colors. They can only be used on standard "Generation 1" eggs (i.e., non-quest eggs), and the resulting pets enjoy all types of food. Once unlocked most can be bought in the market for two
, and sold for two
. If you try to buy more than you can use, the game will warn you about that, and ask if you're sure.
Types
[
]
There are three basic types of magic hatching potions (Daily Check-In Incentives, Seasonal Edition, and Quest-Locked), plus some sub-types, based on the requirements for unlocking and acquiring them. Please note that all the details below are true as of the time this article was written, but have varied in the past and may change in the future.
Note: One of the sub-types of magic hatching potions, "Wacky", has both the "Seasonal" and "Quest-Locked" types. Although their quests are only available seasonally, once unlocked the potions can be purchased year-round.
Daily Check-In Incentive hatching potions, which were released with the Daily Check-In Incentives feature and can be earned by logging into Habitica a certain number of times. There is currently only one potion that can be gotten this way, and it can not be gotten any other way. You will only receive a total of 18 potions over time, which is just enough for one pet and one mount of each standard egg type. Therefore, if you sell any of the Daily Check-In Incentives potions you will never be able to complete your pet/mount collection.
WHERE to find the potions: They will automatically appear in your Inventory.
WHEN to find the potions: They appear every 10-20 days -- the exact schedule is available here.
HOW MANY potions to get: If you keep logging in, you will automatically receive just enough to get all the pets, raise them to mounts, then get them all as pets again.
Seasonal Edition hatching potions are automatically unlocked for purchase, but only appear for limited periods of time. The starting and ending dates are always announced in the news, and in the web version they'll have a purple clock in the upper right corner, indicating that it's time-limited. Not every potion will appear every year.
WHERE to find the potions: All potions can be found in the Market while they are available.
WHEN to find the potions: The #Schedule below explains when each potion is likely to be available for purchase, and the #History lists all past appearances. Once bought, the potion remains in your inventory until used.
HOW MANY potions to buy: Most Seasonal Edition potions: 18 for all pets & mounts. Wacky potions don't have mounts, so you only need 9.
Quest hatching potions are unlocked by performing the relevant quest. Upon completion of the quest you receive three potions, and the first time you complete it you will also unlock the ability to buy the potions individually in the Market for 2 . Unlocked quest potions stay in the market even if the quest is no longer available.
WHERE to find the quests: Most of the quests can be found in the Quest Shop. Time Traveler quests can be bought in the Mysterious Time Travelers shop instead. Either way, the unlocked potions will be in the Market and only cost gems.
WHEN to find the quests: Most of the quests have been continuously available since they were introduced. Wacky quests are based on April Fools' Day pranks, and are only available in April.
HOW MANY quests & potions to buy: The most cost-effective way to get most quest potions is to keep repeating the quest. Time Traveler quests are the exception - it's best to only buy one quest, and get the other potions individually.
| | | | | |
| --- | --- | --- | --- | --- |
| Group | # potions | 1 quest + (#-3) potions | vs | (# potions)/3 quests |
| Most | 18 | (1 x 4) + (15 x 2) = 34 | | (6 x 4) + (0 x 2) = 24 |
| Wacky | 9 | (1 x 4) + (6 x 2) = 16 | | (3 x 4) + (0 x 2) = 12 |
| Time Traveler | 18 | (1 x 1) + (15 x 2) = 1 , 30 | | (6 x 1) + (0 x 2) = 6 |
Schedule
[
]
Since ~2019, Seasonal Edition Magic Hatching Potions have fallen into eight annual availability categories, mostly non-overlapping:
| | | | |
| --- | --- | --- | --- |
| Group | Months affected | Availability start range | Availability end |
| Winter Wonderland | 12 & 1 | December 19-22 | Last day of January |
| Valentine's | 2 | 2nd week in February | Last day of February |
| Spring Fling | 3 & 4 | Last 2 weeks of March | Last day of April |
| April Fools | 4 | 2nd week of April | Last day of April |
| May | 5 | Mid-May | Last day of May |
| Summer Splash | 6 & 7 | Last 2 weeks of June | Last day of July |
| Gap | 8 & 11 | Unstable | Last day of the starting month |
| Fall Festival | 9 & 10 | 9/22 or later | Last day of October |
(The "Gap" category is called that because it is the only category broken over two non-consecutive months, so it seems like the potions in this category are filling in gaps until something more regular is developed/established.)

The following table lists:
Potion image and potion name (Sorts by potion name)
Type / Quest Name (Sorts by type, and then quest name within type)
Timing category (From the table above. Sorts by position in year, with Winter Wonderland being first, Valentine's being second, etc.)
Iterations: Number of years this potion has been made available
1st Year: First year this potion was made available
Every Year: Whether this potion has been made available every year since it first appeared. y=Yes, n=No, n/a=it's been continuously available.
History
[
]
This is the complete history of all Magic Hatching Potion releases. Most potions that have quests do not also have availability end dates, but for those that do: your ability to buy potions after completing the quest one time stays even if the quest itself becomes unavailable.
| Start | End | Iteration | | Potion name | Availability requirements |
| --- | --- | --- | --- | --- | --- |
| 2019-Nov-26 | n/a | 1 | | Amber | Quest: The Amber Alliance |
| 2017-Jun-29 | 2017-Jul-31 | 1 | | Aquatic | |
| 2018-Jun-26 | 2018-Jul-31 | 2 | | Aquatic | |
| 2020-Jun-23 | 2020-Jul-31 | 3 | | Aquatic | |
| 2019-Dec-19 | 2020-Jan-31 | 1 | | Aurora | |
| 2020-Dec-22 | 2021-Jan-31 | 2 | | Aurora | |
| 2020-Nov-10 | 2020-Nov-30 | 1 | | Autumn Leaf | |
| 2021-Nov-09 | 2021-Nov-30 | 2 | | Autumn Leaf | |
| 2020-Mar-19 | 2020-Apr-30 | 1 | | Birch Bark | |
| 2021-Mar-25 | 2021-Apr-30 | 2 | | Birch Bark | |
| 2020-Nov-18 | n/a | 1 | | Black Pearl | Quest: A Startling Starry Idea |
| 2019-May-21 | n/a | 1 | | Bronze | Quest: Brazen Beetle Battle |
| 2019-Mar-21 | 2019-Apr-30 | 1 | | Celestial | |
| 2020-Mar-19 | 2020-Apr-30 | 2 | | Celestial | |
| 2022-Mar-29 | 2022-Apr-30 | 3 | | Celestial | |
| 2020-Apr-07 | 2020-Apr-30 | 1 | | Confection | Quest: Waffling with the Fool: Disaster Breakfast! |
| 2021-Apr-01 | 2021-Apr-30 | 2 | | Confection | Quest: Waffling with the Fool: Disaster Breakfast! |
| 2022-Apr-12 | 2022-Apr-30 | 3 | | Confection | Quest: Waffling with the Fool: Disaster Breakfast! |
| 2017-Feb-02 | 2017-Feb-28 | 1 | | Cupid | |
| 2018-Feb-08 | 2018-Feb-28 | 2 | | Cupid | |
| 2019-Feb-12 | 2019-Feb-28 | 3 | | Cupid | |
| 2020-Feb-11 | 2020-Feb-29 | 4 | | Cupid | |
| 2021-Feb-09 | 2021-Feb-28 | 5 | | Cupid | |
| 2022-Feb-14 | 2022-Feb-28 | 6 | | Cupid | |
| 2017-Aug-08 | 2017-Aug-31 | 1 | | Ember | |
| 2018-Aug-21 | 2018-Sep-21 | 2 | | Ember | |
| 2019-Nov-12 | 2019-Nov-30 | 3 | | Ember | |
| 2021-Nov-09 | 2021-Nov-30 | 4 | | Ember | |
| 2017-Apr-20 | 2017-May-17 | 1 | | Fairy | |
| 2018-May-15 | 2018-May-31 | 2 | | Fairy | |
| 2020-May-12 | 2020-May-31 | 3 | | Fairy | |
| 2021-May-11 | 2021-May-31 | 4 | | Fairy | |
| 2016-Apr-25 | 2016-May-31 | 1 | | Floral | |
| 2017-May-25 | 2017-Jun-14 | 2 | | Floral | |
| 2019-May-14 | 2019-May-31 | 3 | | Floral | |
| 2021-May-11 | 2021-May-31 | 4 | | Floral | |
| 2022-May-17 | 2022-May-31 | 5 | | Floral | |
| 2020-Jun-11 | n/a | 1 | | Fluorite | Quest: A Bright Fluorite Fright |
| 2018-Nov-20 | 2018-Nov-30 | 1 | | Frost | |
| 2020-Nov-10 | 2020-Nov-30 | 2 | | Frost | |
| 2019-Apr-09 | 2019-Apr-30 | 1 | | Garden | |
| 2020-Apr-07 | 2020-Apr-30 | 2 | | Garden | |
| 2021-Apr-01 | 2021-Apr-30 | 3 | | Garden | |
| 2022-Apr-12 | 2022-Apr-30 | 4 | | Garden | |
| 2016-Sep-22 | 2016-Oct-31 | 1 | | Ghost | |
| 2017-Sep-26 | 2017-Oct-31 | 2 | | Ghost | |
| 2018-Sep-25 | 2018-Oct-31 | 3 | | Ghost | |
| 2020-Sep-24 | 2020-Nov-02 | 4 | | Ghost | |
| 2018-Jun-26 | 2018-Jul-31 | 1 | | Glass | |
| 2019-Jun-20 | 2019-Jul-31 | 2 | | Glass | |
| 2021-Jun-23 | 2021-Jul-31 | 3 | | Glass | |
| 2018-Sep-25 | 2018-Oct-31 | 1 | | Glow-in-the-Dark | |
| 2019-Sep-26 | 2019-Oct-31 | 2 | | Glow-in-the-Dark | |
| 2021-Sep-21 | 2021-Oct-31 | 3 | | Glow-in-the-Dark | |
| 2016-Dec-15 | 2017-Jan-31 | 1 | | Holly | |
| 2017-Dec-19 | 2018-Jan-31 | 2 | | Holly | |
| 2019-Dec-19 | 2020-Jan-31 | 3 | | Holly | |
| 2021-Dec-21 | 2022-Jan-31 | 4 | | Holly | |
| 2018-Dec-21 | 2019-Jan-31 | 1 | | Icy Snow | |
| 2020-Dec-22 | 2021-Jan-31 | 2 | | Icy Snow | |
| 2021-Aug-17 | 2021-Aug-31 | 1 | | Moonglow | |
| 2021-May-18 | n/a | 1 | | Mossy Stone | Quest: A Maze of Moss |
| 2021-Nov-23 | n/a | 1 | | Onyx | Quest: The Onyx Odyssey |
| 2015-Dec-07 | 2015-Dec-31 | 1 | | Peppermint | |
| 2016-Dec-15 | 2017-Jan-31 | 2 | | Peppermint | |
| 2018-Dec-21 | 2019-Jan-31 | 3 | | Peppermint | |
| 2021-Dec-21 | 2022-Jan-31 | 4 | | Peppermint | |
| 2021-Mar-25 | 2021-Apr-30 | 1 | | Polka Dot | |
| 2022-Mar-29 | 2022-Apr-30 | 2 | | Polka Dot | |
| 2018-Mar-13 | 2018-Apr-30 | 1 | | Rainbow | |
| 2019-Mar-21 | 2019-Apr-30 | 2 | | Rainbow | |
| 2021-Mar-25 | 2021-Apr-30 | 3 | | Rainbow | |
| 2019-Feb-12 | 2019-Feb-28 | 1 | | Rose Quartz | |
| 2020-Feb-11 | 2020-Feb-29 | 2 | | Rose Quartz | |
| 2021-Feb-09 | 2021-Feb-28 | 3 | | Rose Quartz | |
| 2022-Feb-14 | 2022-Feb-28 | 4 | | Rose Quartz | |
| 2017-Apr-25 | n/a | 1 | | Royal Purple | Quest: Daily Check-In Incentives |
| 2020-Feb-13 | n/a | 1 | | Ruby | Quest: Ruby Rapport |
| 2020-Jun-23 | 2020-Jul-31 | 1 | | Sand Sculpture | |
| 2021-Jun-23 | 2021-Jul-31 | 2 | | Sand Sculpture | |
| 2019-Sep-26 | 2019-Oct-31 | 1 | | Shadow | |
| 2020-Sep-24 | 2020-Nov-02 | 2 | | Shadow | |
| 2017-Mar-23 | 2017-Apr-19 | 1 | | Shimmer | |
| 2018-Mar-13 | 2018-Apr-30 | 2 | | Shimmer | |
| 2020-Mar-19 | 2020-Apr-30 | 3 | | Shimmer | |
| 2022-Mar-29 | 2022-Apr-30 | 4 | | Shimmer | |
| 2019-Aug-13 | n/a | 1 | | Silver | Quest: The Silver Solution |
| 2021-Aug-24 | n/a | 1 | | Solar System | Quest: A Voyage of Cosmic Concentration |
| 2015-Oct-01 | 2015-Oct-31 | 1 | | Spooky | |
| 2016-Sep-22 | 2016-Oct-31 | 2 | | Spooky | |
| 2017-Sep-26 | 2017-Oct-31 | 3 | | Spooky | |
| 2019-Sep-26 | 2019-Oct-31 | 4 | | Spooky | |
| 2021-Sep-21 | 2021-Oct-31 | 5 | | Spooky | |
| 2020-Dec-22 | 2021-Jan-31 | 1 | | Stained Glass | |
| 2021-Dec-21 | 2022-Jan-31 | 2 | | Stained Glass | |
| 2017-Dec-19 | 2018-Jan-31 | 1 | | Starry Night | |
| 2018-Dec-21 | 2019-Jan-31 | 2 | | Starry Night | |
| 2019-Dec-19 | 2020-Jan-31 | 3 | | Starry Night | |
| 2021-Jun-23 | 2021-Jul-31 | 1 | | Sunset | |
| 2019-May-14 | 2019-May-31 | 1 | | Sunshine | |
| 2020-May-12 | 2020-May-31 | 2 | | Sunshine | |
| 2022-May-17 | 2022-May-31 | 3 | | Sunshine | |
| 2016-Aug-09 | 2016-Aug-31 | 1 | | Thunderstorm | |
| 2017-Nov-07 | 2017-Nov-30 | 2 | | Thunderstorm | |
| 2018-Nov-20 | 2018-Nov-30 | 3 | | Thunderstorm | |
| 2019-Nov-12 | 2019-Nov-30 | 4 | | Thunderstorm | |
| 2021-Aug-17 | 2021-Aug-31 | 5 | | Thunderstorm | |
| 2020-Sep-15 | n/a | 1 | | Turquoise | Quest: Turquoise Treasure Toil |
| 2020-Sep-24 | 2020-Nov-02 | 1 | | Vampire | |
| 2021-Sep-21 | 2021-Oct-31 | 2 | | Vampire | |
| 2022-Apr-12 | 2022-Apr-30 | 1 | | Virtual Pet | Quest: Virtual Mayhem with the April Fool: The Beepening |
| 2019-Jun-20 | 2019-Jul-31 | 1 | | Watery | |
| 2020-Jun-23 | 2020-Jul-31 | 2 | | Watery | |
| 2020-Aug-25 | n/a | 1 | | Wind-up | Quest: A Whirl with a Wind-Up Warrior |