Your Life, The Role Playing Game
Learn how to play
Habitica
, an open-source habit building program that treats your life like a Role Playing Game. This wiki is written and maintained by the players of Habitica.
Please join us
!
The wiki is also available in other languages:
Dansk
,
Deutsch
,
Español
,
Français
,
Italiano
,
日本語
,
Nederlands
,
Polski
,
Português Brasileiro
,
Русский
,
Türkçe
,
中文 (简体 & 繁體)
.
After you finish
Justin the Guide's Tour
and delete the sample tasks, you can begin your Habitica adventure in three simple steps.
---
Step 1: Enter Tasks
First, enter a few tasks. You can add more later as you think of them.
Bonus: If you need inspiration on which tasks to add, see the Sample Habits, Sample Dailies, Sample To Do's, and Sample Rewards pages.
---
Step 2: Gain Points by Doing Things in Real Life
Now, start tackling your goals from the list! As you complete tasks and check them off in Habitica, you will gain Experience, which helps you level up, and Gold, which allows you to purchase Rewards. If you fall into bad habits or miss your Dailies, you will lose Health. In that way, the Habitica Experience and Health bars serve as a fun indicator of your progress toward your goals. You'll start seeing your real life improve as your character advances in the game.
---
Step 3: Customize and Explore Habitica
Once you're familiar with the basics, you can get even more out of Habitica with these nifty features:
Want people to know more about your guild or party? Feel like it needs its own wiki page? Well we have a place for that! Head over to
The Armory
to create a page in honor of your guild or party.
01/05/2021
GIFT ONE GET ONE ENDING SOON! NEW BACKGROUNDS AND ARMOIRE ITEMS! SEASONAL AVATAR LOOKS!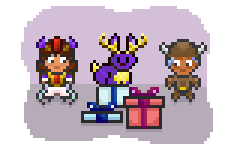 Last Chance to Gift a Subscription and Get One Free!
Don't forget to take advantage of our best promotion of the year! Gift a Habitica subscription to a friend or loved one and get the same length of subscription for yourself, free!
Subscribers get tons of perks every month, including exclusive items, the ability to buy Gems with Gold, and a cute exclusive Jackalope Pet. Plus, it helps keep Habitica running ad-free :) To gift a subscription to someone, just open their profile and click on the present icon in the upper right.
If you've been curious about trying out a subscription, now's the time! Gear up for the new year with exciting perks for you and your favorite accountability buddy.
Promotion ends at 8 PM US Eastern Time on January 7.
Please note that if you or your gift recipient already have a recurring subscription, the gifted subscription will only start after that subscription is cancelled or has expired. Thanks so much for your support! <3
by the Habitica Team


January Backgrounds and Armoire Items!
We've added three new backgrounds to the Background Shop! Now your avatar can admire a Snowy Castle, dip into a wintry Hot Spring, and cross the Icicle Bridge. Check them out under User Icon > Backgrounds on web and Menu > Inventory > Customize Avatar on mobile!
Plus, there's new Gold-purchasable equipment in the Enchanted Armoire, including the Blue Moon Rogue Set. Better work hard on your real-life tasks to earn all the pieces! Enjoy :)
by Starsystemic, jjgame83, Vyllan, gully, GeraldThePixel, katieslug, QuartzFox and shanaqui

Wintery Skins & Hair Colors
The Seasonal Edition Wintery Hair Colors are now available for purchase! Now you can dye your avatar's hair Snowy, Peppermint, Holly Green, Aurora, Winter Star, or Festive.
Plus, the Seasonal Edition Wintery Skins are available, too! You can complete your winter avatar look with Aurora, Dapper, Festive, Holly, Polar, Sugar, or Winter Star Skins.
Both of these Seasonal Edition customization sets will only be available to purchase until January 31st, after which they'll be gone until next year, so be sure to swoop them up now! You can find them in User>Edit Avatar!
by Lemoness and tricksy.fox

---
More News | Questions about the News?
Community content is available under
CC-BY-SA
unless otherwise noted.