Your Life, The Role Playing Game
Learn how to play
Habitica
, an open-source habit building program that treats your life like a Role Playing Game. This wiki is written and maintained by the players of Habitica.
Please join us
!
The wiki is also available in other languages:
Dansk
,
Deutsch
,
Español
,
Français
,
Italiano
,
日本語
,
Nederlands
,
Polski
,
Português Brasileiro
,
Русский
,
Türkçe
,
中文 (简体 & 繁體)
.
After you finish
Justin the Guide's Tour
and delete the sample tasks, you can begin your Habitica adventure in three simple steps.
---
Step 1: Enter Tasks
First, enter a few tasks. You can add more later as you think of them.
Bonus: If you need inspiration on which tasks to add, see the Sample Habits, Sample Dailies, Sample To Do's, and Sample Rewards pages.
---
Step 2: Gain Points by Doing Things in Real Life
Now, start tackling your goals from the list! As you complete tasks and check them off in Habitica, you will gain Experience, which helps you level up, and Gold, which allows you to purchase Rewards. If you fall into bad habits or miss your Dailies, you will lose Health. In that way, the Habitica Experience and Health bars serve as a fun indicator of your progress toward your goals. You'll start seeing your real life improve as your character advances in the game.
---
Step 3: Customize and Explore Habitica
Once you're familiar with the basics, you can get even more out of Habitica with these nifty features:
Want people to know more about your guild or party? Feel like it needs its own wiki page? Well we have a place for that! Head over to
The Armory
to create a page in honor of your guild or party.
04/05/2021
NEW BACKGROUNDS AND ARMOIRE ITEMS! SHINY SEEDS AND SPRING HAIR AND SKIN COLORS!

April Backgrounds and Armoire Items
We've added three new backgrounds to the Background Shop! Now your avatar can help build a Cottage Under Construction, admire nature Among Cattails, and wander through an Elegant Garden.. Check them out under User Icon > Backgrounds on web and Menu > Inventory > Customize Avatar on mobile!
Plus, there's new Gold-purchasable equipment in the Enchanted Armoire, including the Clown Set. Better work hard on your real-life tasks to earn all the pieces! Enjoy :)
by QuartzFox, Kodey, Vikte, Pandawalker, blue-raindrop, katieslug, Mike the Monk, shanaqui, and SabreCat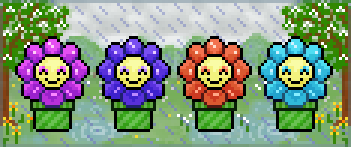 Shiny Seeds
Throw a Shiny Seed at your friends and they will turn into a cheerful flower until their next cron! You can buy the Seeds in the Seasonal Shop with Gold. Plus, if you get transformed by a Shiny Seed, you'll receive the Agricultural Friends badge!
Don't want to be a flower? Just buy some Petal-Free Potion from your Rewards column to reverse it.
Shiny Seeds will be available in the Seasonal Shop until April 30th, 8PM US Eastern!
by Lemoness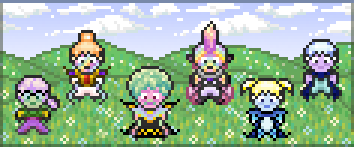 Shimmer Hair Colors and Pastel Skin Set
The Seasonal Edition Shimmer Hair Colors and Pastel Skin Set are now available for purchase in the User menu > Edit Avatar! These skin sets will only be available to purchase until April 30th, and then they will disappear from the shop until next Spring Fling. If you buy them, though, you will have access to them year-round!
by Lemoness and McCoyly

---
More News | Questions about the News?
Community content is available under
CC-BY-SA
unless otherwise noted.