Your Life, The Role Playing Game
Learn how to play
Habitica
, an open-source habit building program that treats your life like a Role Playing Game. This wiki is written and maintained by the players of Habitica.
Please join us
!
The wiki is also available in other languages:
Dansk
,
Deutsch
,
Español
,
Français
,
Italiano
,
日本語
,
Nederlands
,
Polski
,
Português Brasileiro
,
Русский
,
Türkçe
,
中文 (简体 & 繁體)
.
After you finish
Justin the Guide's Tour
and delete the sample tasks, you can begin your Habitica adventure in three simple steps.
---
Step 1: Enter Tasks
First, enter a few tasks. You can add more later as you think of them.
Bonus: If you need inspiration on which tasks to add, see the Sample Habits, Sample Dailies, Sample To-Dos, and Sample Rewards pages.
---
Step 2: Gain Points by Doing Things in Real Life
Now, start tackling your goals from the list! As you complete tasks and check them off in Habitica, you will gain Experience, which helps you level up, and Gold, which allows you to purchase Rewards. If you fall into bad habits or miss your Dailies, you will lose Health. In that way, the Habitica Experience and Health bars serve as a fun indicator of your progress toward your goals. You'll start seeing your real life improve as your character advances in the game.
---
Step 3: Customize and Explore Habitica
Once you're familiar with the basics, you can get even more out of Habitica with these nifty features:
Want people to know more about your guild or party? Feel like it needs its own wiki page? Well we have a place for that! Head over to
The Armory
to create a page in honor of your guild or party.
4/2/2020
NEW OFFICIAL CHALLENGES AND BEHIND THE SCENES BLOG POST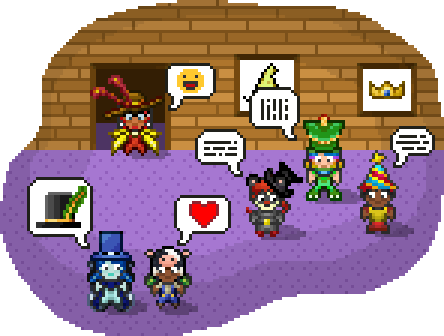 April 2020 Resolution Success Challenge and New Take This Challenge
The Habitica team has launched a special official Challenge series hosted in the Official New Year's Resolution Guild. These Challenges are designed to help you build and maintain goals that are destined for success and then stick with them as the year progresses. For this month's Challenge, Gather Your Party, we're focusing on finding encouraging allies to help you gain accountability for your goals!! It has a 15 Gem prize, which will be awarded to five lucky winners on May 1st.
Congratulations to the winners of March's Challenge: @mymartianromance, @BadWolfandTheStorm, @KatieIrene, @LastminuteKing, and @Janqt!

The next Take This Challenge has also launched, "This One Goes to 11!", with a focus on managing feelings of overwhelm. Be sure to check it out to earn additional pieces of the Take This armor set!
Take This is a nonprofit that seeks to inform the gamer community about mental health issues, to provide education about mental disorders and mental illness prevention, and to reduce the stigma of mental illness.
Congratulations to the winners of the last Take This Challenge, "Gaining Inspiration Points": grand prize winner @Susiturrikka, and runners-up @Kereenas-ff, @JohnMakiej, @Martes625, @ScarletSlayer, and @bradders154276! Plus, all participants in that Challenge have received a piece of the Take This item set if they hadn't completed it already. It is located in your Rewards column. Enjoy!
by Doctor B, the Take This team, Lemoness, Beffymaroo, and SabreCat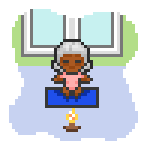 Behind the Scenes: Mental Health Tips from the Team
Hello Habiticans! In this edition of Behind the Scenes, some of the Habitica staff and mods are sharing some of the ways they're taking care of their mental health, physical well-being, and work routines during the current crisis. We hope some of their tips are helpful for you as well!
Take care! 💜
by shanaqui and the Habitica Team

---
More News | Questions about the News?
Community content is available under
CC-BY-SA
unless otherwise noted.