Habitica WearOS App
[
]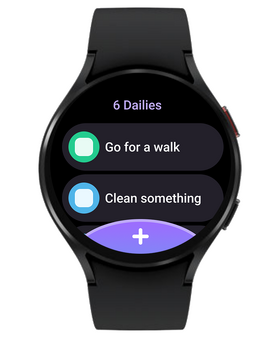 Habitica is available on Android WearOS devices! You can pair your smart watch with your phone and sync your Habitica account for even more easy access to your everyday tasks.
Create and check off Habits, Dailies, or To Do's. View your character's HP, MP, and EXP, or pull up your avatar on your watch to show off to friends! More features will be added over the coming year.

Accessing your account
[
]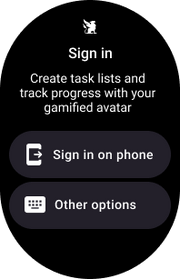 The Habitica WearOS app supports a few ways to access your Habitica account either over a bluetooth connection with your phone or standalone on the watch:
Auto-pair with phone
[
]
The easiest way is to make sure your watch is paired with your phone over bluetooth then launch the watch app while signed in to your account on your phone. This should sign you in on the watch automatically.
Sign in on phone
[
]
If you aren't logged in on your phone, you'll land on a manual sign in screen. From here you can tap 'Sign in with phone' to launch the phone app and sign in there if you aren't already. After signing in, either close and reopen the watch app or tap 'Sign in with phone' again to prompt the watch to sync.
Manual sign in on watch
[
]
If you aren't connected with your phone over bluetooth, you can manually enter your username and password or sign in with Google if your account uses the Google sign in authentication method.
App sections
[
]
[

]
Google encourages watch apps to use a flat navigation structure with a simple hub that leads to each section. At the top of the hub you'll see your account's display name. You can create a task from the Hub or navigate to other sections.
Dailies, To Do's and Habits
[
]
You can create, view, and check off your various tasks from each section of the watch app. The hub will show a count of how many tasks you have or that are due that day.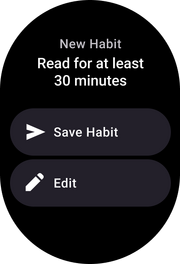 Creating a task
[
]
Tap the + at the bottom of the screen to create a task. You can choose between microphone or text input. Downloading the Google Keyboard app on the watch Play Store and setting that as your default keyboard in Settings may provide a better typing experience.
After adding your title, you'll have a chance to preview the new task and edit it before saving. Right now, the watch only supports default task creation settings for a quick, on-the-go experience.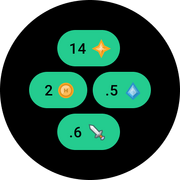 Completing a task
[
]
Tap the checkbox or +/- to complete a task just like on other platforms! For Habits that are both positive and negative, there's an extra confirmation step that will let you choose which direction you'd like to score the task. After a task is scored, your completion rewards will show on the screen. This view will dismiss on it's own after a brief moment, or you can tap to dismiss it immediately.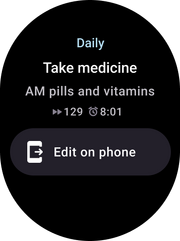 Viewing task details
[
]
Tap the text to view a tasks full title, notes, streak, and/or due date. If you're paired with your phone, you can tap the 'Edit on phone' button to automatically bring up that task's full edit screen on your mobile device.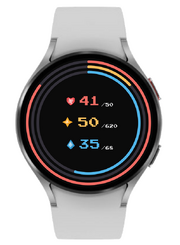 Stats
[
]
On the watch app, the Stats section contains information you would find in the header of the traditional app. This is where you'll see your current Health, Experience, and Mana. You can see your current level from the Stats chip in the hub.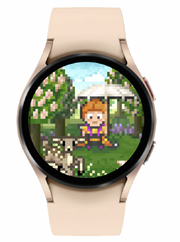 Avatar
[
]
You can view your current avatar on the watch and show your gear off to friends on the go! We implemented better avatar rendering for the watch app so that your avatar can be displayed on larger screens without blurring the pixel art.
Settings
[
]
View your current app version, sync data, or log out from Settings. If you want to edit normal account Settings like your username or day start time, it's best to do that on the web or mobile app versions of Habitica.
Day start and Check-in Incentives
[
]
Day Start
[
]
If you happen to open the WearOS app at the start of your day you'll either see a 'Starting your day...' screen or the option to check off any Dailies you didn't complete yesterday. If your tasks have checklists, we recommend dismissing this screen and instead opening the mobile app or browser version to start your day.
Check-in Incentives
[
]
If you start your day on the watch, your check-in count will go up even if there is no notification for it on the screen. If you happen to receive a check-in reward that day, you'll see a notification of that reward the next time you open the mobile or browser version of Habitica.
Syncing data
[
]
If you notice data not updating correctly, you can force a refresh by tapping your display name at the top of the navigation hub, or by tapping the task count at the top of each task screen. There's also a Sync Data button located in Settings.
Future improvements
[
]
Over the next year we want to include notifications and alarms on the watch, Rewards support, and some useful Tile integrations that give even quicker access to your most important tasks.
Reporting bugs
[
]
If you experience any issues, you can report a bug through the Android phone app by going to Menu > Support > Get Help > Report a Bug. Please mention that the issue you encountered is on the watch and include the version number found at the bottom of the watch app's Settings.