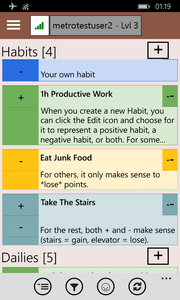 The client requires a connection to work and is in beta mode. This client is written in C# / XAML, the Target Platform is Windows 8.1 (all CPU-Types) and Windows Phone 8.1. If you have any feature requests (besides my own, upcoming "want-to-have" features) please feel free to post your requests and bugs to:
Search Tasks by Name (not on Phone)
Filter by Tags
Add / Remove Tags and assign them to Tasks
Manage your Habits / Dailies / Todos and Rewards
Change your Equipment, Pets and Mounts
Multiple Accounts, Custom ServerUrl
Added Number of not finished dailies to the Livetile
Hatch your Eggs using Potions
Toggle Sleep Mode
Phone: In-App Notifications of Rewards
Phone: Transparent Start-Tiles
Phone: Cortana Commands!
Offline Mode
Cast Spells
Translations:
Install from Store
Type in User ID and API Token (found in the API Options) or Username and Password
Use :)
Community content is available under
CC-BY-SA
unless otherwise noted.