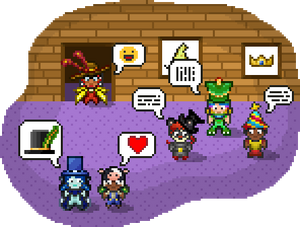 This Guilds Guide is automatically generated from the stat reports produced by GuildBot. While it gives a good overview of most guilds grouped by topic, it is not complete since new guilds will be created, grow, shrink, and be abandoned and deleted every day. This page only lists guilds that do not have a primary language of English only or have an alternative language page on their own specific language wiki. See below for language breakdown and links to pages.
Please note: Guilds are classified by the Pirate GUS Classification. Private Guilds and guilds under Pirate Action are not listed on this page.
As of 2022-08-09, there are 966 public guilds in Habitica that are not under Pirate Action. Below is a table of the number of guilds per language, excluding guilds that are all languages like 'Habitica Help: Ask a Question'. The total table count may be larger than the current public count as some guilds have multiple primary languages.
Arabic
[
]
Bosnian
[
]
Bulgarian
[
]
Chinese
[
]
Croatian
[
]
Czech
[
]
Danish
[
]
Dutch, Flemish
[
]
Finnish
[
]
French
[
]
German
[
]
Hebrew
[
]
Hungarian
[
]
Indonesian
[
]
Italian
[
]
Japanese
[
]
Korean
[
]
Norwegian
[
]
Polish
[
]
Portuguese
[
]
Russian
[
]
Slovak
[
]
Spanish, Castilian
[
]
Swedish
[
]
Tagalog
[
]
Thai
[
]
Turkish
[
]
Ukrainian
[
]
Vietnamese
[
]