This is a featured article!
This page was featured as part of the Wiki Wednesday series. Once a month, Habitica staff highlight a helpful post from the Wiki with tips about productivity, wellness, and optimizing your use of Habitica!
---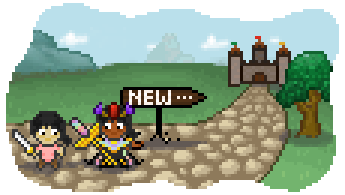 This Guilds Guide is automatically generated from the stat reports produced by GuildBot. While it gives a good overview of most guilds grouped by topic, it is not complete since new guilds will be created, grow, shrink, and be abandoned and deleted every day. This page only lists guilds whose primary language is English. For guilds with alternative primary languages see the links listed below. For other communities and languages see Language & Local Community Guilds section at the bottom of this page.
Please note: Guilds are classified by the Pirate GUS Classification. Private Guilds and guilds under Pirate Action are not listed on this page.
As of 2022-07-05, there are 1087 public guilds in Habitica. They are broken down by size:

179 Gold Tier Guilds, approximately 16% of all public guilds. These are the large guilds of Habitica with over 1000 or more members.

390 Silver Tier Guilds, approximately 36% of all public guilds. These are medium sized guilds with more than 100 but less than 1000 members.

518 Bronze Tier Guilds, approximately 48% of all public guilds. These are the small guilds of Habitica with fewer than 100 members.
Looking for more great guild guides? Check out the Guild Spotlight series on the Habitica Blog, which features a variety of guilds sharing common themes.
Health & Fitness
[
]
Healthy Lifestyle
[
]
Nutrition
[
]
Fitness
[
]
Running & Walking
[
]
Be a Good Sport
[
]
Sleep Hygiene
[
]
Recovery & Support Groups
[
]
Mental & Physical Health
[
]
A guild for anyone with ADHD (professionally diagnosed or self-diagnosed) who considers themself to be a writer! As ADHDers we have to overcome significant barriers to harness our creativity, this is a place to talk about it!
This is a guild for those of us with diagnosed or undiagnosed AD(H)D using Habitica to help manage the issues of motivation, distraction, and other impairments that come with our condition.
Anxiety Alliance is a place for those managing and dealing with anxiety to gather and support each other. We also offer a variety of Challenges for managing anxiety generally as well as to help you accomplish your anxiety-inducing tasks. :)
The guild for Habiteers on the autism spectrum, whether you be professionally or self-diagnosed.
This guild is for people living with autoimmune disease. Let's trade ideas and support each other on the quest to living well.
A guild created to show support and care, and add some stability to the often turbulent lives of those affected with Borderline Personality Disorder.
A place for blind & visually impaired users of Habitica and anyone curious about living life with sight loss or a visual impairment. Feel free to join, chat about your experiences or ask questions :)
Borderline Personality Disorder
Dyautonomia, POTS, EDS, Hypermobility Spectrum Disorder, Gastroparesis, Mast Cell Activation Syndrome, Fibromyalgia, Lyme Disease, Hashimoto's and other autoimmune diseases. The list goes on and on and sometimes it feels like we've got all of 'em!
A guild for members of the LGBTQ+ community who are also disabled, chronically ill, or mentally ill!
Compulsive sexual behavior: inappropriate/excessive sexual behaviors/thoughts causing distress or impaired function. What support can be found here I do not know. ""Who knows? Have patience. Go where you must go, and hope!" - Gandalf
Diagnosed or not, long-haul or recent, this is a place for mutual support of those suffering the effects of Covid-19.
A guild for those with Dissociative Identity Disorder or Other Specified Dissociative Disorder.
Eating differently from everyone else? So are we. Food allergy, intolerance, malabsorption, or sensitivity? Religious diet? Vegetarian? Vegan? Elemental diet? Something else? Learn, share, support, and vent in a helpful and understanding atmosphere.
Guild for discussion of PHYSICAL (incl. developmental) disability, chronic illness, health insurance issues, accomodations and accessibility, personal care and/or in-home caregivers, psychology of disability, relationships with disability, and more!
Everyday Ehlers-Danlos Battles
For anyone experiencing executive dysfunction, a place to share your struggles and tools that help you!
Eye exercises, eyesight problems, eye health and self-care.
Integrating Geek Culture Into Therapy
Got something you need to get off your chest, but no one to listen? Come and share it with us. We don't judge! ❤
Plurality and multiplicity! Open to all who are more-than-one, regardless of system type or origin. This guild serves mostly as a storage space for challenges, but we do welcome light discussion about the day-to-days of plural life.
Homebound
Everyone makes mistakes; it's human nature. But sometimes we knowingly and intentionally make a choice that we know will harm us. (That's also human nature.) The hard part is sometimes choosing *not* to indulge the self-destructive behavior...
Not everything that ends with syndrome or disorder has to be a negative.WARNING! LAUGHTER WILL OCCUR!
@sneakylittlepooka created this guild in the hope that others that others learning to readjust their lives after bariatric surgery could help one another and uplift each other. Let's keep the dream alive!
Life Basics
A guild focused on joy, connection, and mindfulness for building resilience in the face of life's challenges, particularly those relating to chronic illness but applicable to everyone! Come create your own best life with us!
If you've been diagnosed with osteoporosis or just want to take precautions to avoid developing this bone destroying disease, join us for support, comments and "Above All, Don't Fall!"
This is the only self-help book that's evidence-based from double-blind studies. If you're *serious* about using *scientifically based* tools to manage ADHD, join this guild!
For those of us suffering from mental illness(es) and trying to develop better habits to deal with them. **This is an open mutual support group, and as such may contain triggering material.**
Migraine Warriors
The OCD Support Guild welcomes anyone with Obsessive Compulsive Disorder or similar diagnoses! Search terms (to make it easier to find this guild): mental health, therapy, psychiatry, compulsions, anxiety, intrusive thoughts, support group
Have a blankie, a pillow and some tea and sit and talk with us about the worst time of the month. everyone is welcome. menstruation #pms #mittelschmerz
Recover and Thrive from CPTSD
A group for those of us with SAD to share strategies. Monthly challenges with seasonal strategies.
Support guild for those who have, think they may have, or support those who have sensory issues. We share tips, tricks, resources, & encouragement, but we cannot diagnose, treat, or cure any condition--please seek a professional.
A guild to help any Habitican battling a skin condition! Anyone with eczema, psoriasis, xerosis, or anything else is welcome. Let's band together and focus on applying cream/medicating and not itching!
Chat for ADHD-havers to share info and work together.
Welcome! This is a safe, friendly place for people who pull their hair, pick their skin, bite their nails, or have other body-focused repetitive behaviors. Join this guild to make new friends and discuss your body focused repetitive behavior tips!
The Bipolar Bears
Our guild, made to help prevent suicide & self-harm, is a friendly support group. If you or someone you love is afflicted with mental illness, depression, friendlessness, or hard times, we won't judge. We can help or simply listen—whatever you need.
A Guild for those that live with Chronic Illnesses Guild Co-Leaders: Foxie, Mike the Monk, Bumbleshoot
A guild for all. Spoonies, Aspies, Zebras, POTS, and all other conditions who aspire to communicate to help support each other, have some fun together, share some jokes and find a friend!
A place for random, appropriate topics of discussion, challenges and information sharing. Anyone is welcome, please keep to the code.
Public support guild for people with obsessive-compulsive personality disorder (OCPD), with the goal to support the ones who need it and to provide more information and awareness about OCPD.
The SugarKill Gang
Lobby Guild for the private guild about menstruation and alternative products. Come in to join the conversation!
A safe place for people with Tourette syndrome and other tic disorders.
Trauma and Dissociative Disorders Guild
Since this Guild touches on a very personal subject, we also have a [private guild] The rules are the same, but only other members of the Guild can read what is written.
A guild for the community of JebroUnity - Mental Health Counselor (in training!), advocate, TakeThis Ambassador, streamer, shoutcaster, GW2 and ESO Partner, player of all the things.
This is a guild for cancer survivors and people still fighting the fight
Addiction Recovery
[
]
Alcoholics Anonymous - One Day at a Time!
Everything about smoking.
For those seeking to improve their relationships with their digital media and devices. Habiticans struggling with digital media of all kinds are welcome. DAA is not affiliated with classic 12-step programs.
Porn-Free and NoFap Support Guild Lobby
For those of us on Habitica who are also in the Recovery Dharma program. This guild was created by a fellow member of the community who holds no actual authority.
This space is for anyone who is in eating disorder recovery and wants support! We welcome those of any gender, ethnicity, sexuality, and history with food. Together, we can practice mindfulness, intuitive eating, self-love, and body acceptance. :)
Adulting
[
]
Adults Only

Noone magically becomes an adult when they turn 18. Life is a battle to find balance and harmony. "Adults Only" is a place where you'll be challenged to take care of yourself, your relationships, and to create goals for the future.

The Work/Life/School Balancing Act

The Work/Life/School Balancing Act

Young Adult- Unprepared

Young Adult- Unprepared
Getting Organized
[
]
Goal Setting & Accountability
[
]
Methods to Stop the Madness
[
]
Cleaning House
[
]
Money Matters
[
]
Seasonal & Life Events
[
]
Self-Improvement
[
]
Be Your Best Self
[
]
Challenge Yourself
[
]
Broaden Your Horizons
[
]
Look on the Bright Side
[
]
Mindfulness
[
]
The Way You Are
[
]
Relationships
[
]
Belief Structures
[
]
A dedicated centre for research, development and propagation of Quranic Sciences to children aged 7-17 years old.
For Jewish habiteers looking to add more prayer and mitzvot to their daily lives.
Atheists, Feminists, and other No Good Commies
A guild for those interested in Buddhism, Buddhist and mindfulness practices, mental health, and spiritual community.
Burners
A place for Catholic geeks of all kinds! Geek out, level up in holiness, help each other become the hero God is calling you to be.
For those who love God and reading/writing mixed!
Reading your bible daily, learn more things about God and yourself :D *TongueTalking* participants yes, you're in the right place ;) [TongueTalking - Wikipedia]
A guild for those who want to grow as disciples of Jesus through spiritual disciplines, as well as for those who are seeking to know more about Jesus Christ and his teaching.
This guild is intended to streamline discussion on various books in the Bible. Join up with us here, and then join the main guild by searching up Disciples of Jesus!
Eastern Orthodoxy (Traditional)
Hello, you beautiful expression of divinity! Are you a spiritual person, do you have your own faith, or is there no religion fitting you because you have your own unique hybrid believe system? Then welcome to the guild! :)
Feeling lost, anxious or unsure what's going on in the world right now? This guild is for those who want to find the answers and gain direction within by working with Energy and The Celestine Prophecy books as a common foundation/reference.
Essential Habits of a Christian
I noticed a distinct lack of Guilds for any Free and Accepted Masons that may be out there looking so I made one. If anyone has objections, issues or problems - I'll shut it down. This lodge is not Tylered (clearly).
Followers of the Way of Hermes
Human Design is a synthesis of modern science and ancient wisdom. With HD you discover your strength and weaknesses and what makes you different from everyone else, along with strategies and techniques for making correct decisions and easeful living
Knights of the Prayerful Rose (Catholic/Christian Habiticans and their friends)
Are you Christian and in any way LGBTQ? Then join this guild! The idea behind this guild is to create a place where issues specific to LGBTQ Christians may be discussed without judgment, so that we might find strength in each other.
Is it logical to believe in the Christian faith? Let's have a friendly discussion about it!
Whether you're looking to follow Jesus' command to love your neighbor or climbing out of COVID isolation and needing some ideas on how to connect or anything in between, this is a group for sharing the struggles and joys of living near each other.
This is a group to support one another as we battle through starting new spiritual practices, whether this is meditation , japa, or something else!
Welcome to Modern Magic. Join us as we explore the Law of Attraction, Energy, Chakras, Dream Analysis, Horoscopes, Essential Oils, Healing Herbs and Plants and more.
Hello Soul Family :sun_with_face::dizzy:🦋 This is a space for assistance, sense of community/support, sharing and a place to have fun, and find ways to heal the World :earth_africa:, Trees :deciduous_tree:, and all of Us.
Welcome to the home of Muslims in Habitica! Let us gather and be bonded by ukhuwah, hope we can share some motivation to get our imaan up! 😆
We are interconnected with Nature through reverence, joy, generosity, gratitude, and loving-kindness. Yet environmental, social and personal challenges are vast. Join our community abiding in agaya and ubuntu, ready to change everything.
For people interested in the occult and/or using Habitica to keep on track with their rituals and practices.
Welcome to OpenStoic, the first practical community based on the new project [OpenStoic.com] We will design a training plan for promoting Virtue and progressing through Prokopton in life
A place for Christians to gather and pray. We pray for each other and for the world, for our concerns and for our blessings. We can come together in our struggles and our victories. We can challenge each other in our walk and devotion to Christ.
Practitioners of reiki and other energywork modalities
This guild is exclusively for students enrolled at [www.renspiritwork.com] 🔥
This guild exists to integrate Habitica with the [The Saintmaker] as well as other Catholic lifestyle products, in order to promote a richly liturgical Catholic life.
The guild name says it all... But if you're religious or believe in the supernatural in other ways, please feel free to come in and have your beliefs challenged (and challenge ours) in a friendly debate!
Christian Guild! Here to support each other moving forward in our Faith and all other aspects of wellness. We love the Lord. Let's create a shame free atmosphere that people can flourish in as a family friendly community and guild family! :)
🔮 A place to get a free tarot reading?!? I'm in! 🔮 Come in my lovelies and have your energy read or if you dabble in the arts and want to give out a reading do that as well. We're all inclusive and supportive here. 💜
The 'Clairs'- A Metaphysical Guild
Members of the Church of Jesus Christ of Latter-day Saints, making our lives better line upon line, precept upon precept.
Join us for astrology, tarot, and other witchy things!
A guild for Therians and Otherkin to talk about their non-human side or anything else going on, and to make friends with other otherkin and therians, furries are welcome, but the main focus is otherkin and therians.
This guild is for everyone that practices Witchcraft and for those interested in Witchcraft! Everyone's welcome:)
Welcome to the Witches of Habitica! Come learn new witchy things here! Herbs, Plants, Astrology/Zodiacs, Tarot/Oracle Cards, Crystals, Intuition, Meditation, Dream Analysis, Candle Magic, Book of Shadows (BoS), Feminism, Yoga, Essential Oils
Witches, Pagans, and Diviners
We are a public guild associated with the Christian community [Ye Ragamuffin Warrior Tavern] Request to join our [private guild]
Scholarly Pursuits
[
]
The Academic Life
[
]
Academics (Unseen Academicals)
Having problem with Chinese ? well, no fear, cause this guild is what you need
The official guild for fans of College Info Geek. Connect with fellow students trying to study more efficiently, learn new skills, and become more productive!
A guild for graduate students or prospective graduate students. Use Habitica to complete that thesis, dissertation, or other big foreboding project, or just get support and advice on graduate student hardships.
Ivory Tower Dwellers
A guild that gamifies homework with rpg challenges!
Monthly challenges for sustainability and long-term goals. Should be especially helpful for working on your PhD thesis but everyone is welcome! Bonus if you have read the Enchanted Forest Chronicles by Patricia C. Wrede ;-)
This guild is for people working toward their high school education! Share study tips, experiences, stress out about graduation requirements, and have fun!
[The Homeschool Guild]
The Scholars is a guild for students and all lovers of learning of all ages! Share tips and tricks for studying with your fellows here, ask for help, and support others in turn. **NB: PLEASE DO NOT LOOK FOR PARTIES/TEAMS IN THIS GUILD.**
Online Courses
[
]
Achievement Unlocked is a guild to help you improve your mind. It includes courses on physics, logic & set theory, creative writing, and a book club. Develop your reasoning skills, ability to solve complex problems, imagination, and self-expression.
Formerly known as Coursera Conscripts
An online community to study with diverse learning platforms worldwide. Numerous universities, courses, lecture series, and experts await your discovery! Key search terms: university, education, MOOC, podcasts, class, professional skills
New to Office 365 or need a quick refresh on the fundamentals? This is the place to start. Join Clippy as we learn tips and tricks for the Microsoft Office suite of tools and share productivity shortcuts with other users from around the world!
Reading
[
]
Book Lust - the guild for those who adore books and reading! :)
This guild is for book lovers. Feel free to share what your reading or what you would like to read every now and then. :-)
This guild is for members of Bookcrossing and others who are interested in Bookcrossing. We talk about the books we've released and found and about other Bookcrossing related things.
A place for all lovers of language to enjoy the wonders of the written or spoken word in their native and/or other language(s).
Read Your Books - Books you own in physical, eBook or Audible form. Books that are on a Want-To-Read list on Goodreads (for example), books that are checked out from the library, or on hold, even text books that have a due date could serve!
Welcome to the Society of Old Books! We sound stuffy, but we're really not. We're just a group of people interested in reading some classic books. Join us as we dive into classic literature!
Primarily for reading the Hugo-nominated works - and voting for them!
The Legendary Book Club of Habitica
Reading a book is good for you, and we all should do it everyday ! I am a person who likes to read books but many people didn't. I think I can share this hobby to everyone in habitica, so I've create a guild for everyone to talk about their books
Occupations & Fields of Study
[
]
Social Sciences & Humanities
[
]
STEM
[
]
Making a Living
[
]
Medicine
[
]
Trade Craft
[
]
Computers
[
]
Programming & Programming Languages
[
]
FreeCodeCamp: We're an open source community of busy people who learn to code.
A guild about everything related to programming in **JavaScript**.
For Perl programming acolytes and masters alike
In this guild we help each other in **Microsoft PowerShell** related habits, tasks or dailies. No matter if you're new to **PowerShell** or already a pro scripter, join us to improve your skills or help other players.
Programming Challenges
Python
Development & Design
[
]
:mortar_board: **Learning 3D modeling in Blender*** or any other software? Here you are at the right place to meet other people who want to improve their 3D modeling skills. Ask questions, help each other to stay motivated and complete challenges.
Group for people who love AWS services and cloud in general. If you have any questions regarding AWS or would like to show some dope resources regarding cloud computing then go for it!
BSD - Berkeley Software Distribution
I created this guild for anyone who's curious about Bitcoin, Altcoins, blockchain technologies and the Crypto world.
A guild for people who work in and/or want to learn more about networking, programming/coding, hardware, technology, information security, development, design, privacy and all things computers!
This guild purpose is to create a healthy habit for developer through positive/negative reinforcement
A guild for those who are committed to or just interested in **Privacy** and **Security**. This guild and it's challenges encourages people to learn, experiment and be conscious about their **Digital Life**.
A guild where we learn about Ethical Hacking together.
Hardware Hackers
Developing a game independently is a hell of a challenge by itself. What if instead, you could gamify the very game creation itself with funny and helpful challenges? That's what you'll get by joining the Indie Game Developers guild!
This is a guild that exists for people who like spreadsheets (whether Excel, Google Sheets, or anything in between) and/or use them heavily in their jobs and want to get better at them!
We are archmages, paladins, warriors, and rogues. We come from all walks of life to follow in the path of Kelsey, the Wizard of Hightower and his Kuber Staff of Netes. With weapons of silicon and infusions of coffee, we seek truth and knowledge.
For those scoundrels engaged or interested in computer-aided design, 3D animation, drafting, etc. From users of SolidWorks to Blender, Inventor to Solvespace, we welcome 3D modeling rogues of all stripes.
A guild for computer programmers / developers / coders to meet, talk, and challenge themselves.
[GDG] Game Developers Guild
support team!!
The guild for everything VR
Creative Pursuits
[
]
Art
[
]
Graphic Design, Photography & Video
[
]
Stage & Screen
[
]
Writing
[
]
Music
[
]
DIY, Crafting & Decorating
[
]
Food & Beverage
[
]
Gaming
[
]
Board, TableTop, & Live Action
[
]
This guild is a place where you can find folks that love the best card game ever created **Magic The Gathering**! Join us and share your game experiences!
A guild for miniature wargamers of all stripes! Whatever your game(s) of choice may be, whether you're a painter, a gamer, or an all-round hobbyist, you're more than welcome here.
SCA Known World Greathall
This is a guild for cubers! Can solve a Rubik's Cube in 10 seconds? Join us! It takes you 5 minutes to solve one? We can help you improve if you want! Have no idea what I'm talking about? We'll explain it to you!
Tabletop Game Creators
A place for all those tabletop gaming geeks out there who play board games, RPGs, card games, and party games.
This is a guild for the boardgamers out there.
A place for any and all chess players.
A guild for game and dungeon masters of TTRPGs. Come say hi, share your experiences, and ask for advice or input. Game on!
This guild is designed for Game Masters, Dungeon Masters, Story writers, and others who are passionate about Role Playing Games, and are looking for a community of like minded individuals to talk shop about what goes on behind our gaming screens.
This ancient board game originated in China, but it's called Go (囲碁) in Japanese, Baduk (바둑) in Korean, and Weiqi (圍棋) in Chinese.
Electronic Play
[
]
Calling all Warriors of Light and Darkness o/ A spot for players of Final Fantasy 14 to keep track of various to-do's of the game!
For fans of any of the animal crossing games, share your FC and find new friends, and join challenges involving keeping up with daily things in game and more to come.
This guild is for people who are looking for a community on Habitica to talk to people who are interested in competitive pokemon and getting started with it.
You like gaming? Come, Invite people to an online lobby or join someone else's! We try to play something every Friday. If you like Roleplay guilds, you can be invited to one of our Gaming themed guilds! (Is named after my Animal crossing island, lol)
Geocachers Guild
The guilded of KoE created by the owner.
Love minecraft? Come on in! Ask for server recommendations and just chat about the newest updates! :)
Run, jump, and Slide your way past your dailies! This is a guild taking inspiration from the video game franchise "Mirror's edge." Come on in to discuss lore, future plots, and how to apply the game to your dailies!
The company. The consoles. The cartridges. Habitican fans of Nintendo, come join us to discuss your favorite games, characters, and Nintendo moments, present, past, and future!
A guild for people who enjoying hunting for trophies
Pokemon Go
A place for Pokemon trainers, collectors, breeders, traders, coordinators, and lovers. All experience levels and game systems welcome! (Separate from but more or less affiliated with the Pokemon GO Guild!)
It's a Skyrim/guild! You can RP, talk about Skyrim, share your characters…
If you are a gamer, The Small Gaming Guild, created by @Bailey_, is for you !
Wandering Glitchen
Gaming Communities
[
]
Dream SMP Empire

Ever wondered where your fellow Dream SMP fan were? Well, this guild is especially for them! All fans are welcome: Dream SMP, Origins SMP, Tales of the SMP, etc. PLEASE BE NICE AND WELCOMING

Gamers Union

A guild for gamers of all kinds: consoles, PC, tabletop, handhelds, trading cards, etc.

New York Society of Play

You do not need to be from New York to join! We are a community of social gamers who strive to make new connections and learn new lessons through the power of play.
Fandom & RolePlay
[
]
Fantasy
[
]
Science Fiction, Mystery, & Horror
[
]
Anime & Manga
[
]
Comics & Animation
[
]
Social Media, Podcasts, & Blogs
[
]
General Fandom Discussion
[
]
Other Role Play
[
]
The World Around You
[
]
Flora & Fauna
[
]
Where animal lovers from all over the world and gather and converse! This guild is for ANY type of animal, from the furry to the feathered to the scaled and beyond!
Let's talk about aquarium fish, plants, aquatic snails, shrimp, amphibia, as well as fish tank maintenance, recommended products, etc.
Love your pet cat? Or just cats in general? This is a no-dogs zone, and the perfect place for you and your cat! (Also cat product recommendations and books about cats.)
We love dogs. We talk about living with dogs, educating or training them, grooming, or anything else related with our furry friends. Questions and suggestions welcome. Force free training only. No prongs, shock collars, alpha rolls etc.
Open to anyone practicing or interested in butterfly and pollinator-centric gardening or raising moths and butterflies. Ask questions and share photos and tips with fellow enthusiasts!
If you love animals and pets, you're in the right place!
Talk about your bird observations, post requests for bird identification, share amazing bird-related materials from web and so on!
A guild for gardeners! Whether you've got one lonely houseplant, a thriving herb or vegetable plot, or are an enthusiast of flowers, this is the place to share your green wisdom and ask your most pressing horticultural questions!
This guild celebrates encounters with nature, large and small.
Activism
[
]
A place for white people to do the work to end racism
We are Habiticians interested in: Permaculture, Transition Towns, Green Wizardry, Rewilding, Appropriate Technology, Natural Building, Homesteading, Primitive Skills, Ecovillages, Slow Food, and more.
This is the Habitica Guild for the US nonprofit, March of the Blanketeers.
Guild for socialist organizers to organize socialist-ly.
Are you vegan or vegan-curious? This guild is for you!
Save our World keywords: organic, bio, energy, renewable, save water, reduce waste, animals, plants, air, oceans, earth, global warming, climate resilience, pollution, endangered species, sustainability, plastic, recycling, compost, ecological, green
Welcome, heroic Habitican! This guild's aim is to promote **[progressivism] in politics & society through individual & collective action. ✊
Welcome to Climate Defenders, the guild formerly known as 🛡️ Challenge of the Day 🛡️
Altruism
[
]
Effective Altruists - making the world as good a place as it can be using evidence and reason
Be a blood donor or organ donor (after death or live) and win a challenge! Topics: 1. Donating organs, blood, stem cells, etc., body donation to medical research and education, etc. 2. Death preparations (advance healthcare directive, will, etc.).
Habitica Heroes on Kiva
A guild dedicated to Habitica gold and gems, trade them for services (volunteer help) and advice. Be a mercenary and sell your time to whoever you please or a client and request help from them.
In this guild, we not only better ourselves, but the world as well! It is our responsibility and privilege to serve those around us. How can you use your time and talents to bless the lives of others? How might your efforts to serve change your life?
Latter Day Spacemen
This is a place to discuss or share more detailed things needed for the [Mercenaries Guild]
For fans of John and Hank Green!
People powered research! Assist researchers by joining the Zooniverse as a volunteer and helping tag photos, audio clips, and more! Great for animal lovers and science lovers!
Language & Local Community Guilds
[
]
Countries & Languages
[
]
Ihr dürft hier gerne nach Parties suchen, um zusammen Quests erledigen zu können, Fragen stellen oder einfach quatschen. Keine Regeln - einfach freundlich sein. ☺️
A *tambayan* for Filipino Habiticans.
The guild for all things Scotland! A place for habiticans to chat and share things relating to Scotland, and in true Scottish fashion everyone is welcome! Guild leader - PerfectNightmare (Fife, Scotland)
Welcome to the Maghreb guild - Merhba bikoum ! Ici on va rassembler les maghrébins de Habitica ! Pour progresser ensemble et apprendre à se connaitre ! Maroc - Algérie - Tunisie - Lybie - All arabic world are welcome !
Native Americans of Habitica
Guild for people living in Scandinavian countries, or people interested in the area.
A group for South Africans who use Habitica!
Clans: Indonesian, Filipino, Thai & Vietnamese . . . Mercenaries: Malaysian, Singaporean, Hong Kongers, Brunei, Myanmar, Cambodian, Laos, Timor Leste
The Land Downunder - A place for Australians (Aussies) and New Zealanders (Kiwis) to hang out.
If you live in Wales or you are a Welsh person living elsewhere, this is the guild for you! / Os wyt ti'n byw yng Nghymru neu wyt ti'n Cymro/Cymraes sy'n byw rhywle arall, dyma'r urdd i ti! (Wales, Welsh, Cymru, Cymraeg)
Guild for Singaporean Habitica Users! (Or people who are interested in Singapore stuff)
Language Learning
[
]
A guild to foster learning Spanish for English speaking folks, and vice versa. Una gremio por favorecer el aprendizaje del Inglés y viceversa.
I created the Arabic Language Learners guild so that we'd have a space to talk about learning Arabic, talk some in Arabic, and share resources.
A support group for Chinese (Mandarin) learners. We run a challenge once every 1 to 2 months 😄 As the saying goes "good good study, day day up" (好好学习,天天向上), remember to study even on the days where we don't have a challenge!
Duolingo is a gamified, free language learning website and app with dozens of languages available! Join the guild to connect with other Duolingo users.
A guild for all lovers, speakers and creators of conlangs (constructed languages).
You love Greek? Then this is the place for you. All Greek languages welcome - from classic Greek, Koine, biblical Koine Greek to modern Greek. 🇬🇷
Welcome to your Italian gym, where you can practice Italian.
I mainly made this guild to keep my friend(and me) accountable for studying Japanese everyday.
Have you finished Genki? Did you take an introductory course and you have no idea where to go from there? Or have you hit a "learning plateau" perhaps? Join us and keep growing!
Korean Language Students Guild
This is a guild for anyone who is learning English, regardless of their first language. You may post in English or your first language or both! Mistakes welcome--we're here to help!
This guild is for those learning Mandarin Chinese, a Sinitic language spoken all around the world. Beginner or expert, all are welcome as we share techniques, strategies, and experiences; as well as improve each other through cultural exchange.
About half the world speaks an Indo-European language. Uropi was based on their common ancestor, uses the most commonly descended words, and has a straightforward pronunciation & regular verbs. It has a strange familiarity and beautiful/unique sound.
For Learning a Language
A place to practice your German skills, or help others improve theirs.
Find support and inspiration for learning a new language! Share tips, join challenges, play games, and chat with others in your target language.
A guild for assiduous aficionados of esoteric English vocabulary.
A guild for learners of all signed languages, whether ASL (American Sign Language), BSL (British Sign Language), LSF (Langue des Signes Française), or any other! All are welcome
The Language Hackers is for all language learners. This guild has a regular monthly Language Hacking challenge and offers support and tips to all language learners, regardless of what methods you are using.
A guild for members of the [subreddit LearnJapanese]   Of course, anyone who is interested in learning Japanese is welcome to join!
This guild is for people who want to learn Spanish!
The Noun-Verb-Adjective Challenge Guild
WaniKani is a web application dedicated to aiding Japanese learners master the art of reading kanji and vocabulary.
Local Communities & Organizations
[
]
A guild for the students of Assiniboine Community College, to help achieve their goals in and out of the classroom!
Guild for patrons of Arcade UFO in Austin, Texas.
Live in the California Bay Area? Here's a guild for you!
Da es Bielefeld nicht gibt, müssen wir zusammenhalten!
This Guild is a Canadian based productivity and lifestyle group with a secondary focus on providing support to those of us who have diagnosed or undiagnosed AD(H)D. The mythological Canadian Sabretooth Squirrel is the Guilds official mascot
Canadian based Catholic community spread across 16 universities in Canada
Stay motivated through military life
This guild is for all students attending ECSU that use Habitica! Meet others at your school who are also working on habits and task management!
Epic Nerd Camp is a week long adventure every summer in Maryland, where nerds gather. Join us!
"Play Games. Heal Kids" For more information, please go to [Extra Life Homepage] And/or [Extra Life Philadelphia]
Created by OrangeOtaku2006 for herself plus all Girl Scouts to have a safe spot to talk about badges, traditions, camp, etc. Remember to follow the Girl Scout promise and law!
A guild for homedepot associates
Place for Habiticans in London; let's all get together.
Massachusetts
Romanian Guild Only! Clan creeat special pentru romani.Aici puteti discuta liber despre orice si va puteti creea propriile provocari.
This Guild is for people who work or live in the San Diego, California area.
The Purposes of Play
Bienvenidos habiticanos de espíritu libre! Este es el gremio de los estudiantes de la universidad de Concepción. Nuestro objetivo como comunidad es crear una red de apoyo en los estudios y organización a través de los retos y tareas con un toque geek
Valley Community is a South African community based in the Southern Suburbs . Our guild consists of members from Fish Hoek, Kommetjie, Ocean View, Simons Town, Sun Valley, Capri and many more
Veterans of Habitica
Promouvoir les saines habitudes de vies auprès des gens qui sont passionné en général, par l'univers Geek & Plus. Geek & plus fais la promotions des valeurs suivantes auprès des gens passionnés: Entraide, respect et plaisir. EN & FR are welcome.
The World of Habitica
[
]
Help & Support
[
]
Beyond the Tavern
[
]
Class System
[
]
Contributor Guilds
[
]
Bug & Suggestion Reports
[
]
Habiticans Being Awesome
[
]
Party Chat Guilds
[
]