Comrades
are Habitica
contributors
 who create
third-party tools
. This includes but is not limited to: web based tools, apps, browser extensions, and CSS templates.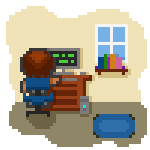 Becoming a Comrade
Edit
There are no prerequisites to becoming a Comrade. However, before creating a tool, you may want to check that a similar tool has not already been created on the Extensions, Add-Ons, and Customizations page.
Any new tool that you wish to submit should have the code reviewable by all users. For example, for any code using the Application Programming Interface, we recommend placing it in a public repository like GitHub. Obviously, this is not required for items like user styles, etc.
Asking for Assistance
Edit
For questions on using the Application Programming Interface (API) and constructing code regarding new tools and extensions, feel free to ask in the Aspiring Comrades guild. There, Comrades are able to share useful information, ask questions, look at what extensions are needed, and get their new third-party tools tested and used by others. To ensure easy assistance, post a link to your raw code from GitHub or your preferred repository.
For questions regarding Habitica's CSS, i.e. modifying it with user styles using tools like Stylus, feel free to ask in the Aspiring Tailors guild. Here, other players will be happy to provide assistance. Please be aware this guild is not monitored by admins, so in order to gain a tier please follow the instructions below to be recognized.
Tips for New Coders
Edit
If you are new to coding, particularly using Application Programming Interfaces, it is recommended to check out the Google Apps Script for examples. You should be able to easily tweak and modify these examples in the language you wish to write in. There are also many guilds in Habitica based on Programming and Program Languages.
Use of Habitca Logo and Colors
Edit
The Habitica logo is not to be used on your extension because it is not an official extension. You are, however, welcome to use the Habitica logo if you change it significantly, i.e., not black or white or using the official purple logo. However, the use of the logo is not required to submit your extension.
The use of Habitica's color purple should also be avoided. Again, this is so it clear to users that this is not an official Habitica tool.
Contributor Tier Process
Edit
In order to gain a Contributor tier, you will need to link your new tool, and if required, link to the repository for your code, in the Aspiring Comrades guild for review. Other comrades will give feedback and help you tweak your extensions. Once approved by an admin, they will give you the tier. Keep in mind that higher tiers require more work. 
Creating a Wiki Page
Edit
After your tool has been accepted, a wiki page can be created and linked into the Extensions, Add-Ons, and Customizations. This gives Habiticans the ability to find your product without any difficulty. If you feel uncomfortable creating your own wiki page, then you can link your creation in the Wizards of the Wiki guild. There, the scribes will be able to create a page for you.
When creating the wiki page, please use the Template:Infobox software template to ensure information is formatted and specified correctly.