This is a featured article!
This page was featured as part of the Wiki Wednesday series. Once a month, Habitica staff highlight a helpful post from the Wiki with tips about productivity, wellness, and optimizing your use of Habitica!
---
The Grand Galas are the four seasonal events that happen each year in Habitica:
The Grand Galas last about a month and a half; they usually start on or near the seasonal equinoxes or solstices and end on the last day of the following month.
---
Please note that seasonal edition items are released throughout the period of the Grand Gala, so some items might not be available at the start. Also, items that were released in previous Grand Galas are not guaranteed to return in the current or in a future Grand Gala.
---
Each Grand Gala brings several additions to Habitica over the course of the festival; they are not all released at the start. They include festive equipment, avatar customization options, a few special holiday treats, and sometimes new game mechanics. For information about specific game features that were introduced, see each of the four individual Grand Gala pages (Winter Wonderland, Spring Fling, Summer Splash, Fall Festival).
The following table shows all the Grand Gala gear that has been introduced for players. The gear for each previous year is available in the Seasonal Shop for the duration of a specific Grand Gala event.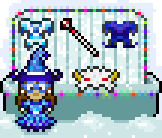 The term Grand Gala was first used in December 2014 when the Seasonal Shop was added to the Inventory tab. The shop first opened later that month as part of Winter Wonderland 2014-2015.
Community content is available under
CC-BY-SA
unless otherwise noted.