Looking for a party to join? Or are you a party leader who is looking for more members? These guilds in Habitica will help you:
Party Wanted guild - Post here to ask for an invitation to a party or to seek new party members. You can post in English or any other language. Some parties may ask that you send a private message to the advertiser for an invite.
Party Wanted International guild - Do not post here in English! If you are looking for a party that speaks any language other than English, or new party members for such a party, post here in that language. Posts that are in English are likely to be deleted by Moderators without notice.
Habitica Party Roster - This guild contains descriptions of parties that are seeking new members. If you are a party leader, post here to advertise your party - read the guild's description before posting and use the template provided there. If you are looking for a party to join, read the posts in this guild but do not post there yourself! Instead, send a private message to one of the party leaders who has posted there. Posts from people seeking parties and posts that don't use the guild's template are likely to be deleted by moderators without notice.
If you are on the iOS or Android app, go to Menu > Guilds / Discover (iOS) or Menu > Guilds > Public Guilds / Search (Android) and search with the word party. If this is your first time viewing the Public list of guilds on the apps, it may take a little while to load.
If you are posting to the Party Wanted guild or Party Wanted International guild to seek a party, to give yourself the best chance of success it is best to state:
a little about who you are, timezone, life status
how often you log on, e.g., once a day, twice daily, every hour
what interests you
what you are looking for in a party, e.g., if you are looking for socializing and fun, accountability through dealing a certain amount of damage, casting a certain number of buffs per day, or a party running in-house Challenges.
If you have posted to seek a party, a party leader who sees your post may invite you. The invitation will appear in your notifications or on the party screen of the mobile apps. Choose "accept" to join.
Please note you cannot be invited to a party unless you are currently not in a party or in party just by yourself. If you are in a party, you will need to leave your party.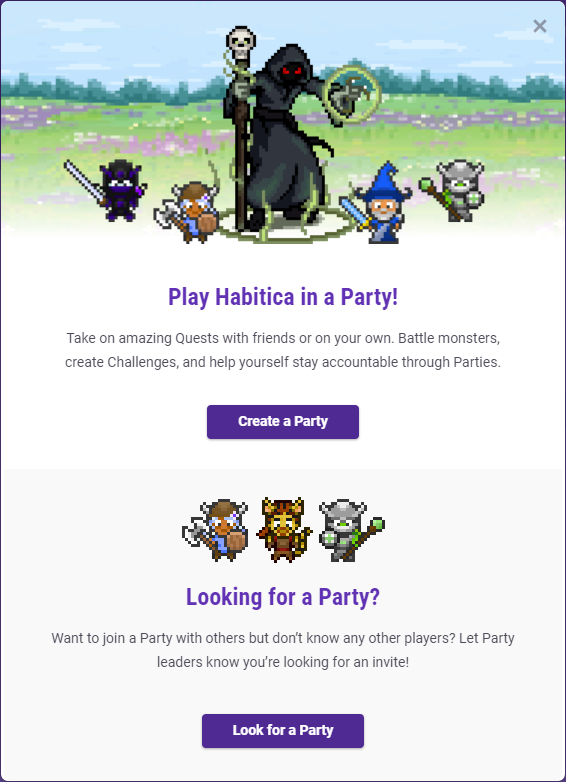 Community content is available under
CC-BY-SA
unless otherwise noted.