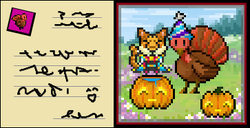 Special event items, such as pets, mounts and equipment are occasionally released to commemorate special events, holidays or other occasions, or as rewards for Official Habitica Challenges. These items are released in specific sequences. If the player is experiencing the event for the first time, they will receive the first item in the series. The next time they experience the event, they will receive the second, and so on.
When receiving items in a certain sequence, it is not possible to miss out on early items. The first item received will always be the first in the sequence, regardless of how many times the event has occurred in the past.
Pets given this way have always been rare pets, and as such cannot be fed or raised into mounts.
Veteran pets are released with major changes to Habitica. They are larger, battle-scarred versions of some of the Generation 1 pets. Unlike most of the sequences below, Veteran Pets are not given annually, only on major updates.
Name
Image
Type
First Released
Veteran Wolf
Pet
On 4 September 2013, when the website was rewritten in Angular, making it much more stable and removing critical bugs.
Veteran Tiger
Pet

On 31 July 2015, to celebrate Habitica Naming Day, when the website was changed from HabitRPG to Habitica.

Veteran Lion
Pet

On 21 May 2016, when API v3 was released.

Veteran Bear

Pet

On September 28, 2017, when the Habitica Redesign was released.

Veteran Fox

Pet
Starting on October 23, 2018, when the Habitica Unique Username system was released, a Veteran pet was given to those players who confirmed their Usernames. For some time after that, new players were also given a Veteran pet when they registered, however this no longer happens.
Annually, on Thanksgiving or "Turkey Day", players are given special turkey companions and a turkey costume.
On Turkey Day 2019 and 2020, Habiticans who had completed the sequence were given a feast of pie to feed their pets, while those who had items left to receive obtained the next item in the sequence.
Annually for Habitoween (Halloween or thereabouts) players have so far been given special pumpkin companions.
Annually for the new year, players can purchase celebratory hats from the rewards section for 0 gold. These equipment pieces are purely aesthetic and provide no stat benefits.
Annually during the Habitica Birthday Bash, players can purchase celebratory robes from the rewards section for 0 gold. These equipment pieces are purely aesthetic, and provide no stat benefits.
The Take This equipment pieces given as rewards for monthly challenges in the Take This Challenge Series follow the ladder format of event item sequences, though they differ from others in that the equipment pieces are only given to users who participate in the challenges, rather than all users who were members of Habitica when a certain event occurred. There are more challenges than there are items in the armor set, so Habiticans who have missed some of the challenges still have a chance at completing the item set.
Players have been given Purple Gryphon Mounts, Pets and costumes on Habitica Naming Day.
Players have been given Orca Mounts and Pets during Summer Splash.
Community content is available under
CC-BY-SA
unless otherwise noted.