Egg Hunt is a collection quest.
This quest scroll is not available for purchase year-round. It is available only during the annual Spring Fling world event.
Unlike normal pet quests, after this quest is completed by a party, the eggs do not become available in the market for gem purchase — instead, the party must purchase another scroll when available. 
History
[
]
During the 2014 Spring Fling, all players who signed up for Habitica before this quest was released received the quest scroll for free. The scroll was available in the market until April 30, 2014 for the price of 1 gem.
During the 2015 Spring Fling, the scroll was awarded for free to all players who had signed up before March 25, 2015. It was also made available to purchase in the Seasonal Shop until the end of Spring Fling, at the cost of 1 gem.
During the 2016 Spring Fling the quest scroll again became available for purchase for one gem, this time in the Inventory tab. While it may return in future years, there is no guarantee of it returning annually or against being replaced.

During the 2021 and 2022 Spring Fling, the quest scroll became available for purchase for one gem.
Description
[
]
Overnight, strange plain eggs have appeared everywhere: in Matt's stables, behind the counter at the Tavern, and even among the pet eggs at the Marketplace! What a nuisance! "Nobody knows where they came from, or what they might hatch into," says @Megan, "but we can't just leave them laying around! Work hard and search hard to help me gather up these mysterious eggs. Maybe if you collect enough, there will be some extras left over for you...
Objective(s)
[
]

Collect 40 Plain Eggs.
On Completion
[
]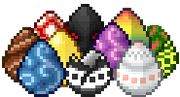 You did it! In gratitude, Megan gives you ten of the eggs. "I bet the hatching potions will dye them beautiful colors! And I wonder what will happen when they turn into mounts...."
When hatched, the plain eggs become hatched eggs - eggs colored according to the hatching potion used (10 eggs = one egg per type of hatching potion). These hatched eggs can be fed, and will grow into Egg Mounts.
Rewards
[
]
Quest Pets and Mounts
[
]
The eggs obtained from this quest can be used to raise the Egg pets and mounts.
Egg Pet
Egg Mount
Base
White
Desert
Red
Shade
Skeleton
Zombie
Cotton
Candy
Pink
Cotton
Candy
Blue
Golden
Promotional Art
[
]
Artwork featuring the Eggs was created for the official blog and social media.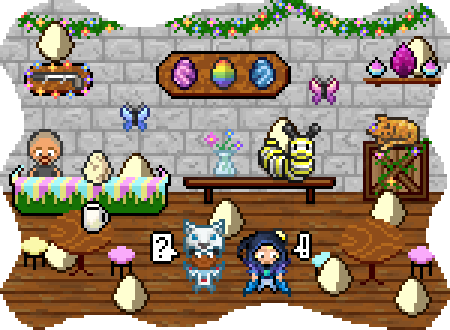 Development and Credits
[
]