Description
A webpage, maintained by a Habitica mod, that shows you certain information from your Habitica account, including:
Task Overview,
Task Statistics,
Tasks Untagged,
Habit History,
Habit Trends,
Dailies History,
Dailies Incomplete,
To-Dos with Dates,
To-Dos Completed,
Drops Received Today,
Quest Progress,
Damage from Dailies,
Stats and Streaks Backup,
Unallocated Points,
Missing Equipment,
Guilds List
Current Appearance and Gear,
Equipment Recommendations,
Skills and Buffs,
Subscription Data,
And more in the future.
The tool's home page shows you a description of each of these features (login not necessary). Click on the version number in the tool's header to see the version history.
Usage
There are a few places to find links to the Data Display Tool from the Habitica Website:
in the bottom right of the 'tasks' tab
under the "Developers" heading of the information bar at the bottom of most Habitica pages
In the 'User' menu at the top right of the page under "Settings" and the "API" tab. The link is down the page under the "Third Party Apps" header
Once there, enter your
API details
, click "Fetch My Data", and then click on links.
Resting in the Inn
Edit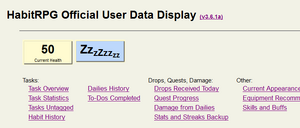 When
Resting in the Inn
, the display shows a box marked with "ZzzZzzzz' instead of the boxes referring to incomplete Dailies and estimated damage. Even while resting, the player can choose to display their statistics, drops, and other information.