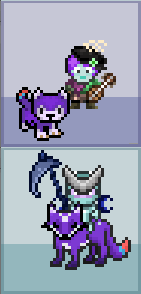 Daily Check-In Incentives are a feature designed to reward players for using Habitica each day. For every day that players check in, their check-in counter will increase. Once a player has checked in for a certain number of days, they will receive a reward.
How it Works
[
]
Every day a player checks in to Habitica, their check-in counter will go up. When the check-in counter reaches certain numbers of days, the player will be given a prize.
This feature is available on both the website and iOS and Android mobile apps.
Pop-ups let you know when your check-in counter increases and when you receive a prize. Note that the website pop-up tells you the number of check-ins you have left until your next prize, whereas in the apps, the pop-up tells you the total number of check-ins required to get the next prize.
Check-In Counter Mechanics
[
]
The check-in counter uses Cron to count the days, but there are safeguards in place to prevent players from changing their Cron to unfairly cheat the system.
The check-in counter was introduced on November 23, 2016, so all players will have a check-in number based on their check-ins on or after that date.
The counter will never be reset. Thus, the Daily Check-In feature rewards players for every day during which they use Habitica, even if they miss a few days, rather than rewarding them for checking in consecutively, like streaks. This encourages players to check back in after an absence from Habitica.
Players will be rewarded, and their check-in counter will increase, regardless of whether or not they are resting in the Inn, as long as they use Habitica that day.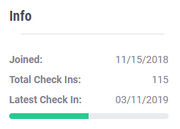 You can view your current check-in counter, or anyone else's, at the right side of the profile under Info. This section displays the total amount of check-ins and the last time a player has checked in (if you are looking at your own, this will always be today). The green bar at the bottom shows the amount of progress towards the next check-in incentive. If someone has already earned all of the prizes, this bar will be greyed out.
Prizes
[
]
Prizes start out being awarded frequently and become less frequent over time (i.e., every five check-ins after 30 check-ins, every 10 check-ins after 150, every 20 check-ins after 200, and every 25 check-ins after 400). 500 check-ins will award the Royally Loyal achievement, which is the last check-in prize.
Prizes are awarded when Cron runs on applicable days. When this happens, the player will see a pop-up that informs them of how many times they have checked in, their prize, and how far away their next check-in prize is.
Prizes include special equipment, new quest scrolls, food, and unique hatching potions. There are prizes for 500 days, which are shown below.
Day
Incentive
Image
0
Quest scroll: The Feral Dust Bunnies mini-quest
1
Bardic Robes

These colorful robes may be conspicuous, but you can sing your way out of any situation. Increases Perception by 3.

2
Plain Background Set
3
Bardic Cap

Stick a feather in your cap and call it "productivity"! Increases Intelligence by 3.

4
Royal Purple Hatching Potion
5
Food: Meat, Chocolate, Pink Cotton Candy
7
Quest scroll: Lunar Battle, Part 1:
Find the Mysterious Shards
10
Royal Purple Hatching Potion
14
Food: Strawberry, Potato, Blue Cotton Candy
18
Bardic Lute

Strum a merry tune on this magical lute! Increases Intelligence and Perception by 4 each.

22
Quest scroll: Lunar Battle, Part 2:
Stop the Overshadowing Stress
26
Royal Purple Hatching Potion
30
Food: Fish, Milk, Rotten Meat, Honey


35
Royal Purple Hatching Potion
40
Quest scroll: Lunar Battle, Part 3:
The Monstrous Moon (final part)
45
Royal Purple Hatching Potion
50
Saddle
55
Royal Purple Hatching Potion
60
Page Armor

Carry everything you need in your perfect pack! Increases Constitution by 16.

65
Royal Purple Hatching Potion
70
Page Helm

Chainmail: for the stylish AND the practical. Increases Perception by 16.

75
Royal Purple Hatching Potion
80
Page Banner

Wave your banner high to inspire confidence! Increases Strength by 16.

85
Royal Purple Hatching Potion
90
Diamond Stave

This valuable stave has mystical powers. Increases Intelligence by 16.

95
Royal Purple Hatching Potion
100
Saddle
105
Royal Purple Hatching Potion
110
Eggs: Bear, Cactus, Dragon, Flying Pig, Fox, Lion, Panda, Tiger, Wolf
115
Royal Purple Hatching Potion
120
Hatching Potions: Base, Blue Cotton Candy, Pink Cotton Candy, Desert, Golden, Red, Shade, Skeleton, White, Zombie
125
Royal Purple Hatching Potion
130
Food: Meat, Blue Cotton Candy, Pink Cotton Candy, Potato, Honey, Strawberry, Chocolate, Fish, Milk, Rotten Meat (3 of each)
135
Royal Purple Hatching Potion
140
Skeleton Key

All the best Sneakthieves carry a key that can open any lock! Increases Constitution by 16.

Loot Bag

This bag is ideal for storing all the goodies you've stealthily removed from unsuspecting Tasks! Increases Strength by 16.

145
Royal Purple Hatching Potion
150
Clandestine Cowl

Take care to conceal your face as you rob your Tasks of gold and loot! Increases Perception by 16.

Sneak Thief Robes

These robes will help hide you in the dead of night, but will also allow freedom of movement as you silently sneak about! Increases Intelligence by 16.

160
Royal Purple Hatching Potion
170
Snow Sovereign Crown

The jewels in this crown sparkle like new-fallen snowflakes. Increases Constitution by 16.

Snow Sovereign Robes

These robes are elegant enough for court, yet warm enough for the coldest winter day. Increases Perception by 17.

180
Royal Purple Hatching Potion
190
Wintry Mirror

How else to best admire your wintry look? Increases Intelligence by 16.

Snowdrift Veil

This translucent veil makes it appear you are surrounded by an elegant flurry of snow! Confers no benefit.

200
Royal Purple Hatching Potion
220
Saddle
240
Nomad's Scimitar

The curved blade of this Scimitar is perfect for attacking Tasks from the back of a mount! Increases Intelligence by 16.

250
Nomad's Cuirass

This armor features a strong chest-plate to protect your heart! Increases Constitution by 17.

260
Spiked Helm

You'll be well protected from stray Dailies and bad Habits with this functional (and neat-looking!) helm. Increases Strength by 16.

280
Food: Meat, Blue Cotton Candy, Pink Cotton Candy, Potato, Honey, Strawberry, Chocolate, Fish, Milk, Rotten Meat (3 of each)
300
Eggs: Bear, Cactus, Dragon, Flying Pig, Fox, Lion, Panda, Tiger, Wolf (2 of each)
320
Dandy Hat

What a merry chapeau! You'll look quite fine enjoying a stroll in it. Increases Constitution by 17.

340
Fencing Foil

Should anyone dare to impugn your honor, you'll be ready with this fine foil! Increases Strength by 16.

Dandy Suit

You're undeniably dressed for success! Increases Perception by 17.

360
2 Saddles
380
Eggs: Bear, Cactus, Dragon, Flying Pig, Fox, Lion, Panda, Tiger, Wolf (3 of each)
400
Food: Meat, Blue Cotton Candy, Pink Cotton Candy, Potato, Honey, Strawberry, Chocolate, Fish, Milk, Rotten Meat (4 of each)
425
3 Saddles
450

Tachi

This light and curved sword will shred your tasks to ribbons! Increases Strength by 17.

Samurai Armor

This strong, scaled armor is held together by elegant silk cords. Increases Perception by 17.

475
Kabuto

This helm is functional and beautiful! Your enemies will become distracted admiring it. Increases Intelligence by 17.

Wakizashi

This short sword is perfect for close-quarters battles with your Dailies! Increases Constitution by 17.

500
Achievement: Royally Loyal