Screenshot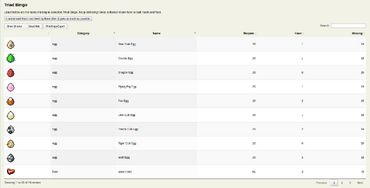 Description
A tool that helps you bulk feed and hatch your pets. It will also allow you to bulk sell your items, analyze your pets collection, allowing you to check which pets and mounts you already own, list all the eggs and hatching potions available in Habitica, check what drops you need in order to get Triad Bingo achievement, as well as bulk hatch and feed those pets for Triad Bingo, and then release and receive the triad bingo achievement when done.
Please report bugs in the Testing & Bug Squashing for Dragon Tools guild. Code can be found at Github. Contributions are welcome.
Sections Available
Pets: Shows the status of your pets. This section will allow you to bulk hatch, bulk feed your pets a specific food or bulk feed with ideal food. The table allows for multiple selections so you can do this for more than one pet at once.
Triad Bingo: Either allows you to hatch all items for Triad Bingo or show which items are missing. If all Standard (Gen 1) pets are hatched and feed, the option to use Key to the Kennels displays here.
Sell Items: Allows you to sell food, eggs or hatching potions.
By Egg Type: Lists all eggs and counts of pets & mounts.
By Potion Type: Lists all potions and counts of pets & mounts.
Activity Log: Lists all actions and responses from Bulk Feeding the pets through the tools.
Usage
Login Options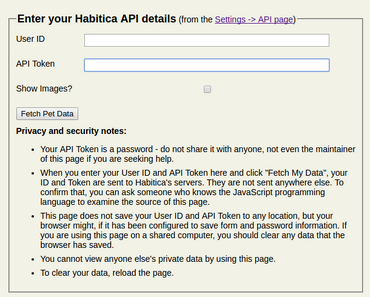 To access and use this tool click on the
Bulk Feed Pets Tool
link and then fill in your
User ID and API Token
.
Decide if you want to show images by ticking Show Images? and then click the Fetch Pet Data button.
Drop-down Menus
Show X rows: Allows you to choose how many rows are shown on one page.
Show/Hide: Allows you to choose what the tool will display for you. You can select from (in order from least to most information) Baby Bear, Mama Bear, and Papa Bear; it also lets you sort by different criteria.
Print/Copy/Export: Allows you print and copy the data, create a PDF file, or export it to Excel or CSV.
Table Sorting
Most sections contain tables that can be sorted. To sort based on a single column, select its header. If you wish to change from ascending to descending order, select the column header again.
To sort based on multiple columns, select the first column header and then hold the Shift key while selecting subsequent column headers. Again, if you wish to change from ascending to descending order for a specific column, select the header again. Selecting a column header a third time removes the sort.
Row Selecting
For the Bulk Hatch, Manual Feed and Bulk Feed, just click a row to select a pet. Similarly, to Sell Items, just click a row to select one. To select more than one row, hold down the Control key first and then select subsequent rows. To bulk select, select the first row in your list, hold down the Shift key, and then click the last row in your list. All rows in between will be selected as well as the first selection and the last. (You can remove individual rows after bulk selecting by pressing the Control key and selecting the rows you wish to remove.)
Bulk Feed All Pets or Specific Group
[
edit
|
edit source
]
To bulk feed all pets, select the first row of the pets, and then hold the Shift key before selecting the last row. Select Bulk feed. The system will then first warn you that it cannot feed some pets, click Cancel to continue, and then OK to confirm the pets to feed. The system will then feed the pets based on Food Preferences. If you run out of preferred food, the system will note this in the Activity log for pets it tried to feed but was unable to due to the lack of food.
To feed a specific group, type in the search box the type of pet and follow the instructions above.
In the pets section you can choose to feed your pets by specific food. In order to do so, you have to choose pets you want to feed (see above for multiple row selecting), click the "Manual Feed" option and then choose what food you want to feed your selected pets with.
Pre-filling information with the url
[
edit
|
edit source
]
If you wish to pre-fill information, you can with url hooks.
userId = User Id
show_image = Show Images (State either true or false)
For example if you wish to pre-fill for the WikiFAQ bot (User id: 29bfa638-cb88-40e8-a0d0-48f455e7b2bd) with Show Images ticked https://oldgods.net/habitica/cTheDragons/group.html?userId=29bfa638-cb88-40e8-a0d0-48f455e7b2bd&show_images=true
uuid can be used instead of userid for comparability with the Data Display Tool
Community content is available under
CC-BY-SA
unless otherwise noted.