Brazen Beetle Battle is a quest with a boss called the Bronze Beetle. Defeating this boss will unlock the Bronze Magic Hatching Potion. The quest scroll can be purchased from the Quest Shop for 4 gems.
The Bronze Beetle's HP (800) makes this a medium length quest and its strength multiplier (2) make this a medium difficulty quest. Without using Warrior or Mage boss damaging skills, a four-person party can typically finish this quest in about three weeks.
Description
On a refreshing break between tasks, you and some friends take a stroll through the forest trails of the Taskwoods. You come upon a large hollow log and a sparkle from inside catches your attention.
Why, it's a cache of Magic Hatching Potions! The shimmering bronze liquid swirls gently in the bottles, and @Hachiseiko reaches to pick one up to examine it.
"Halt!" hisses a voice from behind you. It's a gigantic beetle with a carapace of gleaming bronze, raising her clawed feet in a fighting stance. "Those are my potions, and if you wish to earn them, you must prove yourself in a gentlefolks' duel!"
Objective(s)
Defeat the Bronze Beetle.
On Completion
"Well met, warrior!" says the beetle as she settles to the ground. Is she smiling? It's hard to tell from those mandibles. "You've truly earned these potions!"
"Oh wow, we've never gotten a reward like this for winning a battle before!" says @UncommonCriminal, turning a shimmering bottle in their hand. "Let's go hatch our new pets!"
Rewards
Quest Pets and Mounts
The potions obtained from this quest can be used to raise Bronze Magic Potion pets, which can additionally be fed to be raised into mounts.
| | Bronze Pet | Bronze Mount |
| --- | --- | --- |
| Wolf | | |
| Tiger | | |
| Panda | | |
| Lion | | |
| Fox | | |
| Flying Pig | | |
| Dragon | | |
| Cactus | | |
| Bear | | |
Promotional Art
Artwork featuring the Bronze Beetle was created for the official Habitica blog.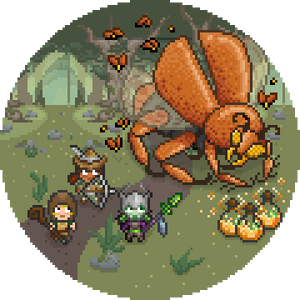 Development and Credits
Release date: May 21, 2019
Writers:
Artists:    Mount - Hachiseiko   Pet - Hachiseiko