IMPORTANT NOTICE FOR ALL DEVELOPERS:

If your local install was made before 24 April 2018, the database needs to be updated. See the "Updating Your Local Install" section in Using Your Local Install to Modify Habitica's Website and API

---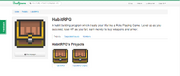 BountySource
is a website where users and supporters of open source software can post bounties on bug fixes and feature requests. This allows a user to donate money that will be paid to the developer who fulfills the user's chosen requests.
If a Habitica issue or feature request does not currently have the ability for a bounty to be added, a player who wants to donate to it can post to the issue or Trello card to ask that BountySource be enabled for it. For a feature request, an issue in GitHub will be created to track progress on the request because bounties cannot be posted on Trello cards (this is one of the very few cases where GitHub is used for feature requests).
The issues that have bounties can be viewed in GitHub by using the type: bounty label.
They can also be viewed in
Habitica's BountySource page
; however, that page lists all of Habitica's open issues. To find the few that have bounties, select the icon for the compressed list view and click the dollar sign ($) to sort by bounty total, bringing issues with bounties to the top of the list.
To contribute to an issue's bounty, create a BountySource account, find the issue in BountySource by using the view described above, and click on it to go to its bounty page.
A developer who wishes to work on any issue should read Guidance for Blacksmiths first. The developer's contribution must be accepted and merged into Habitica's GitHub repository before they can receive the compensation for their work.
External Links
Edit