This software stopped working after 28 September 2017 when the website underwent a redesign.
Information about the change can be found at Habitica Redesign Fact Sheet
---
Description
A Chrome extension to create a boss button to hide game-looking elements from Habitica, permitting its safe use at work or in class. (Note that this is not related to boss quests.)
Boss Button CSS Extension is a newer extension that has similar functionality but uses Stylish (i.e., can be used on more browsers and may be easier to install).
Installation
1. Download the extension from
https://github.com/tjwds/habitrpg-boss-button/raw/master/habitrpg-boss-button.crx.
2. In Chrome, Go to File > Preferences(cmd ,) > Extensions. Drag and drop the habitprg-boss-button.crx file to the Settings list; it will install once you confirm the installation.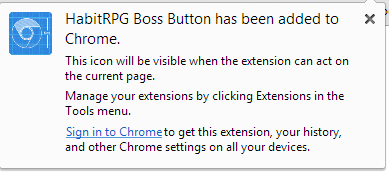 3. Reload Habitica.
4. Click the eye icon in the toolbar (see screenshot) to toggle the game-looking elements on your Habitica tasks page.

Clicking the eye button again will return your normal interface.
Windows Users: Using Chrome for Windows may require one extra added step involving unzipping the file before installing it due to security patches to Chrome. See this web page under 'The second option....' for a full explanation and set of steps.