Backgrounds are optional scenery that can be placed behind player avatars. They have no in-game effect and exist only for aesthetic value. As of March 28, 2017, the violet background from the Plain Background Set is the default background (previously, the default background was a featureless light slate color). All existing players were also given the violet background and can choose to equip it if they wish to.
To view available backgrounds and to change your current background, navigate to the Edit Avatar sub-tab or the Backgrounds sub-tab under the User icon. This opens a modal that pops up on top of your current page. Then, click on the one you want to use. If you click on a purchasable background you do not currently own, you will be prompted to purchase it.
In the apps, backgrounds are located under Menu > Customize Avatar (iOS) or Menu > Avatar (Android). Currently, you cannot enable the solid light slate background from the apps.
If you would prefer to have a transparent background, in the list of available backgrounds on the Edit Avatar or Backgrounds sub-tab, click on the picture of your current background. Your background will appear as the color of its environment (for example, purple when viewed in the header or white then viewed in a user profile).
Free, unlockable backgrounds were introduced as prizes with the Daily Check-In Incentives feature. For every day that a player logs in to Habitica, their check-in counter will increase. Once a player has checked in for a certain number of days, they will receive a prize.
Available Unlockable Backgrounds
[
edit
|
edit source
]
As mentioned above, the violet background from the Plain Background Set is the default background. The rest of the Plain Background Set is unlocked after a player logs in to Habitica for two days.
Three backgrounds are released each month and can be purchased with gems. An individual background costs 7 gems, and the monthly set of three backgrounds can be purchased together for 15 gems. If you purchase an individual background, you cannot purchase the set that the individual background was in for 15 gems. You will need to purchase the other backgrounds individually for 7 gems if you want to get the whole set. The only free backgrounds are the slate color as well as the default and unlockable backgrounds in the Plain Background Set.

Backgrounds can be purchased on the Backgrounds modal or on the Edit Avatar modal opened under the User icon. Those that are available for purchase will have a white bar at the bottom of the frame, showing the price in gems. To buy a single background, click on the gem icon inside the bar. To buy a set, click on the "Purchase Set" button shown below each purchasable set. Buying a single background will remove the bar, while buying the set will remove all bars and the "Purchase" button. That way you can easily see which backgrounds you have purchased and can use.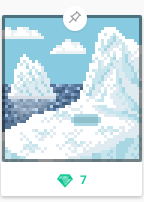 You can also pin a background to your rewards column for a later purchase, by clicking the pin icon centered on the top of the frame. You will then be able to purchase it directly from rewards, without opening the Edit Avatar or Background modal.
Available Purchasable Backgrounds
[
edit
|
edit source
]
The available purchasable backgrounds with their release dates, titles, artists, and descriptions are shown below.
February 2021
Flying Over a Glacier

Witness frozen majesty by Flying Over a Glacier.
by Vikte
Heart-Shaped Bubbles

Float cheerfully among Heart-Shaped Bubbles.
by tseren
Throne Room


Grant an audience in your luxurious Throne Room.
by Daikagaru
January 2021
Hot Spring

Melt away your worries with a dip in a Hot Spring.
by gully
Icicle Bridge

Cross the Icicle Bridge with care.
by Vyllan
Wintry Castle

Witness a Wintry Castle through the chilly mists.
by jjgame83
December 2020
Gingerbread
House

Take in the sights, scents, and (if you dare) flavors of a Gingerbread House.
by gawrone
Holiday Hearth


Relax, warm up, and dry off beside a Holiday Hearth.
by jjgame83
Inside an
Ornament

Let your festive cheer shine out from Inside an Ornament.
by gawrone
November 2020
Mystical Observatory

Read your destiny in the stars from a Mystical Observatory.
by gawrone
Resting in
the Inn

Work from the comfort and safety of your room while Resting in the Inn.
by aspiring_advocate
River of Lava


Defy convection taking a stroll along a River of Lava.
by gawrone
October 2020
Crescent Moon


Do the work of dreams while seated upon a Crescent Moon.
by gawrone
Haunted Forest


Try not to get lost in the Haunted Forest.
by gawrone
Spooky Scarecrow Field

Prove you're more daring than a bird by braving a Spooky Scarecrow Field.
by gawrone
September 2020
Giant Leaf


Perch on a Giant Leaf.
by Eslyn
Herd of Sheep


Mingle with a Herd of Sheep.
by Eslyn and sarajea
Flying Over an Autumn Forest

Enjoy the view while Flying Over an Autumn Forest.
by Daikagaru
August 2020
Productivity Plaza

Stroll through Habit City's Productivity Plaza.
by Alonquain
Camping Out

Enjoy the outdoors by Camping Out.
by katieslug
Jungle Canopy

Bask in the splendor of the Jungle Canopy.
by -Tyr-
July 2020
Underwater Ruins


Explore Underwater Ruins.
by Vyllan
Swimming Among Jellyfish

Go Swimming Among Jellyfish.
by Vikte
Beach Cabana


Relax in a Beach Cabana.
by -Tyr-
June 2020
Salt Lake

Sunbathe next to a Salt Lake.
by gawrone
Relaxation River

Splash in the Relaxation River.
by jjgame83
Viking Ship

Set sail for adventure on a Viking Ship.
by gawrone
May 2020
Hot Air Balloon

Soar above the landscape in a Hot Air Balloon.
by Sir_Jetpack
Habit City Rooftops

Leap adventurously between the Rooftops of Habit City.
by OuttaMyMind
Strawberry Patch

Pick fresh treats from a Strawberry Patch.
by QuartzFox and weeWitch
April 2020
Rainy Barnyard

Take a soggy splashy stroll through a Rainy Barnyard.
by QuartzFox
Animal Clouds

Exercise your imagination finding Animal shapes in the Clouds.
by QuartzFox
Heather Field

Enjoy the aroma of a Field of Heather.
by gawrone
March 2020
Among
Giant Flowers

Dally on and Among Giant Flowers.
by OuttaMyMind
Butterfly Garden


Party with pollinators in a Butterfly Garden.
by Mantichore
Succulent Garden


Take in the arid beauty of a Succulent Garden.
by Vikte
February 2020
Elegant Ballroom

Dance the night away in an Elegant Ballroom.
by astigmatism
Tea Party

Partake in a fancy Tea Party.
by gawrone
Hall of Heroes

Approach the Hall of Heroes with appreciation and reverence.
by Alonquain
January 2020
Birthday Party

Celebrate the Birthday Party of your favorite Habitican.
by nirbhao
Snowy Desert

Witness the rare and quiet beauty of a Snowy Desert.
by gawrone
Snowglobe

Shake up a Snowglobe and take your place in a microcosm of a winter landscape.
by aspiring_advocate
December 2019
Holiday Market

Find the perfect gifts and decorations at a Holiday Market.
by Vikte
Holiday Wreath

Festoon your avatar with a fragrant Holiday Wreath.
by gawrone
Winter Nocturne

Bask in the starlight of a Winter Nocturne.
by Maans
November 2019
Tumultuous Thunderstorm

Fly through a Tumultuous Thunderstorm.
by Vikte
Potion Shop


Find only the strongest elixirs at the Potion Shop.
by aspiring_advocate
Farmer's Market


Wander through a colorful Farmer's Market.
by Lt. Cabel
October 2019
Monster Maker's Workshop

Experiment in a Monster Maker's Workshop.
by Tigergurke
Pumpkin Carriage


Ride in a magical Pumpkin Carriage.
by Vikte
Foggy Moor


Journey across a Foggy Moor.
by QuartzFox
September 2019
Autumn Flower Garden

Take in the warmth of an Autumn Flower Garden.
by Vikte
Ancient Tomb


Brave the mysteries of an Ancient Tomb.
by Tigergurke
Classroom


Absorb knowledge in a Classroom.
by aspiring_advocate
August 2019
Giant Dandelions

Dally among Giant Dandelions.
by Vikte
Ancient Ruins

Explore mysterious Ancient Ruins.
by Vikte
Tree House

Relax in a woodsy Tree House.
by Maans
July 2019
Flying over Tropical Islands

Enjoy the view while Flying Over Tropical Islands.
by Vikte
Among Giant Anemones

Explore reef life Among Giant Anemones.
by Tigergurke
Lake with Floating Lanterns

Stargaze on a Lake with Floating Lanterns.
by Tigergurke
June 2019
School of Fish

Swim among a School of Fish.
by TheMushroomKing
Seaside Cliffs

Stand on a beach with the beauty of Seaside Cliffs above.
by Tyche_Alba
Underwater Vents

Take a deep dive down, down to the Underwater Vents.
by Manostion
May 2019
Dojo

Learn new moves in a Dojo.
by AnnDeLune
Park with Statue

Follow a flower-lined path through a Park with a Statue.
by GeraldThePixel and Reesachan
Rainbow Meadow

Find the pot of gold where a Rainbow ends in a Meadow.
by QuartzFox
April 2019
Halfling's House

Visit a Halfling's House.
by Vikte
Birch Forest

Dally through a peaceful Birch Forest.
by Vikte
Blossoming Desert

Take in the Superbloom in the Blossoming Desert.
by Vikte
March 2019
Duck Pond


Feed the birds at the Duck Pond.
by Vikte
Flower Market


Browse the Flower Market.
by astigmatism
Field With
Colored Eggs

Go on the hunt for Spring goodies in a Field with Colored Eggs.
by gawrone
February 2019
Medieval Kitchen


Cook up a storm in a Medieval Kitchen.
by NekoAtsumeLARPer
Old-Fashioned
Bakery

Enjoy delicious smells outside an Old-Fashioned Bakery.
by Marmarru
Valentines' Day
Feasting Hall

Feel the love in a Valentines' Day Feasting Hall.
by aspiring_advocate and GeraldThePixel
January 2019
Avalanche

Flee the thundering might of an Avalanche.
by Lt. Cabel
Archaeological Dig

Unearth secrets of the ancient past at an Archaeological Dig.
by KusSv
Scribe's Workshop

Write your next great scroll in a Scribe's Workshop.
by Snowchu
December 2018
Snowy Mountains


Soar over Snowy Mountains at night.
by Wykedcrafty and Vikte
Frosty Forest


Bundle up to hike through a Frosty Forest.
by Vikte
Snowy Day Fireplace

Snuggle up next to a Fireplace on a Snowy Day.
by Vikte
November 2018
Back Alley


Look shady loitering in a Back Alley.
by FirozTaverbi
Glowing Mushroom Cave

Stare in awe at a Glowing Mushroom Cave.
by Leephon
Cozy Bedroom


Curl up in a Cozy Bedroom.
by GeraldThePixel and ghostlight_gal
October 2018
Bayou

Bask in the fireflies' glow on the misty Bayou.
by NekoAtsumeLARPer
Creepy Castle

Dare to approach a Creepy Castle.
by gully
Dungeon

Rescue the prisoners of a spooky Dungeon.
by Shred
September 2018
Apple Picking

Go Apple Picking and bring home a bushel.
by virrcat
Giant Book

Read as you walk through the pages of a Giant Book.
by Maans
Cozy Barn

Relax with your pets and mounts in their Cozy Barn.
by GeraldThePixel
August 2018
Rocky Canyon

Look down into a breathtaking scene as you fly over a Rocky Canyon.
by DialFforFunky
Training Grounds

Spar on the Training Grounds.
by Irrevenant
Bridge

Cross a charming Bridge.
by Lalaitha
July 2018
Tide Pool

Observe the ocean life near a Tide Pool.
by Gully
City of Dilatory

Meander through the undersea City of Dilatory.
by Irrevenant
Dark Deep

Swim in the Dark Deep among bioluminescent critters.
by Great and Powerful
June 2018
In a Rowboat

Sing Rounds in a Rowboat.
by AnnDeLune
At the Docks

Fish at the Docks.
by CarolinaAsh
A Pirate Flag

Wave a Pirate Flag.
by MiguelDavid
May 2018
Terraced
Rice Field

Tiptoe through a Terraced Rice Field.
by TheMushroomKing and khdarkwolf
Champions' Colosseum

Bask in the glory of the Champions' Colosseum.
by Katy133
Fantastical Shoe Store

Look for fun new footwear in the Fantastical Shoe Store.
by confusus
April 2018
Tulip Garden

Tiptoe through a Tulip Garden.
by Vikte
Field of Wildflowers

Soar above a Field of Wildflowers.
by virrcat
Ancient Forest

Fly over the canopy of an Ancient Forest.
by Vikte
March 2018
Gorgeous Greenhouse

Walk among the flora kept in a Gorgeous Greenhouse.
by DialFforFunky
Elegant Balcony


Look out over the landscape from an Elegant Balcony.
by AnnDeLune
Driving a Coach


Enjoy Driving a Coach past fields of flowers.
by Nummycakes and Reesachan
February 2018
Rose Garden

Dally in a Rose Garden.
by weeWitch
Magical Museum

Explore a Magical Museum.
by Katy133
Chessboard Land

Play in Chessboard Land.
by AnnDeLune
January 2018
Aurora

Bask in the wintry glow of an Aurora.
by weeWitch
Sleigh

Drive a Sleigh over snow-covered fields.
by Nummycakes and beffymaroo
Icy Steppes

Fly over Icy Steppes.
by p-denissa
December 2017
Cross-Country Ski Trail

Glide along a Cross-County Ski Trail.
by Hachiseiko
Starry Winter Night




Admire a Starry Winter Night.
by AnnDeLune

Toymaker's Workshop

Bask in the wonder of a Toymaker's Workshop.
by CitrineSun
November 2017
Tornado

Fly through a Tornado.
by Katy133
Fiber Arts Room



Spin thread in a Fiber Arts Room.
by Katy133

Midnight Castle

Stroll by the Midnight Castle.
by AnnDeLune
October 2017
Magical Candles

Bask in the glow of Magical Candles.
by Vampitch
Spooky Hotel



Sneak down the hall of a Spooky Hotel.
by Reesachan

Tar Pits

Tiptoe through the Tar Pits.
by NekoAtsumeLARPer
September 2017
Beside a Well

Stroll Beside a Well.
by CitrineSun
Garden Shed

Work in a Garden Shed.
by GeraldThePixel
Pixelist's Workshop

Create Masterpieces in the Pixelist's Workshop.
by unicornbread
August 2017
Back of a Giant Beast

Ride on the Back of a Giant Beast.
by khdarkwolf
Desert Dunes


Boldly explore the Desert Dunes.
by ystockings
Summer Fireworks


Celebrate Habitica's Naming Day with Summer Fireworks!
by thegrimsqueaker
July 2017
Giant Seashell

Lounge in a Seashell.
by LilithofAlfheim
Kelp Forest

Swim through a Kelp Forest.
by Reesachan
Midnight Lake

Rest by a Midnight Lake.
by Manostion
June 2017
Buried Treasure

Unearth Buried Treasure.
by Reesachan
Ocean Sunrise

Admire an Ocean Sunrise.
by CitrineSun
Sandcastle

Rule over a Sandcastle.
by traverpatri
May 2017
Guardian Statues

Stand vigil in front of Guardian Statues.
by Katy133
Habit City Streets

Explore the Streets of Habit City.
by astigmatism
On a Tree Branch

Perch On a Tree Branch.
by usnbfs
April 2017
Bug-Covered Log
Investigate a Bug-Covered Log.
by Katy133
Giant Birdhouse

Perch in a Giant Birdhouse.
by James_Danger
Mist-Shrouded Mountain

Summit a Mist-Shrouded Mountain.
by CarolinaAsh
March 2017
Magic Beanstalk
Ascend a Magic Beanstalk.
by Witticaster
Meandering Cave

Explore the Meandering Cave.
by KusSv
Mistiflying Circus

Carouse in the Mistiflying Circus.
by Stefalupagus
February 2017
Bell Tower
Climb to the Bell Tower.
by CitrineSun
Wedding Arch

Pose under a Wedding Arch.
by Twitching
Treasure Room

Bask in the wealth of the Treasure Room.
by Twitching
January 2017
Blizzard
Brave a fierce Blizzard.
by KusSv
Sparkling Snowflake

Glide on a Sparkling Snowflake.
by Katy133
Stoïkalm Volcanoes

Explore the Stoïkalm Volcanoes.
by Alonquain
December 2016
Shimmering Ice Prisms
Dance through the Shimmering Ice Prisms.
by LilithofAlfheim
Winter Shop


Purchase presents from a Winter Shop.
by FirozTaverbi
Winter Fireworks


Set off Winter Fireworks.
by KusSv
November 2016
Midnight Clouds
Fly through the Midnight Clouds.
by KusSv
Stormy Rooftops
Creep across Stormy Rooftops.
by FirozTaverbi
Windy Autumn
Chase leaves during a Windy Autumn.
by Laurelei Kirsch
October 2016
Spider Web
Get snagged in a Spider Web.
by KusSv
Strange Sewers
Slither through the Strange Sewers.
by Kiwibot
Rainy City
Splash through a Rainy City.
by DialFforFunky
Spider Web can be hidden with the Phobia Protection Extension. Entire avatar will be hidden.
September 2016
Cornfields
Enjoy a beautiful day out in the Cornfields.
by felipetotoro
Farmhouse
Say hello to the animals on your way to the Farmhouse.
by James_Danger
Orchard
Pick ripe fruit in an Orchard.
by felipetotoro
August 2016
Idyllic Cabin
Retreat to an Idyllic Cabin.
by KusSv
Mountain Pyramid
Climb the many steps of a Mountain Pyramid.
by minac
Stormy Ship
Hold steady against wind and wave aboard a Stormy Ship.
by JInjooHat
July 2016
Aquarium
Bob in an aquarium.
by JessicaChase
Castle of Dilatory
Deep Sea
Dive to the Deep Sea.
by JessicaChase
June 2016
Lilypad
Hop on a Lilypad.
by Witticaster
Waterfall Rock
Splash on a Waterfall Rock.
by KusSv
Lighthouse Shore
Stroll down the Lighthouse Shore.
by Shellcollector
May 2016
Beehive
Buzz and dance in a Beehive.
by James_Danger
Gazebo
Battle a Gazebo.
by DialFforFunky
Tree Roots
Explore the Tree Roots.
by DialFforFunky
April 2016
Archery Range
Practice on the Archery Range.
by Sunstroke
Giant Flowers
Frolic atop Giant Flowers.
by painterprophet
End of the Rainbow
Discover gold at the End of the Rainbow.
by UncommonCriminal
March 2016
Rainforest
Venture into a Rainforest.
by UncommonCriminal
Deep Mine
Find precious metals in a Deep Mine.
by James_Danger
Circle of Stones
Cast spells in a Circle of Stones.
by McCoyly
February 2016
Bamboo Forest
Stroll through the Bamboo Forest.
by Pocketmole
Cozy Library
Read in the Cozy Library.
by UncommonCriminal
Grand Staircase
Stride down the Grand Staircase.
by UncommonCriminal
January 2016
Frozen Lake
Skate on a Frozen Lake.
by featherlight
Snowman Army
Lead a Snowman Army.
by louiselouise
Winter Night
Look at the stars of a Winter Night.
by nonight
December 2015
Alpine Slopes
Ski on the Alpine Slopes.
by Karithina
Snowy Sunrise
Gaze at the Snowy Sunrise.
by InspectorCaracal
Winter Town
Bustle through a Winter Town.
by Midori88
November 2015
Floating Islands
Hop across the Floating Islands.
by Ghosty
Night Dunes
Walk peacefully through the Night Dunes.
by Kiwibot
Sunset Oasis
Bask in the Sunset Oasis.
by Sooz
October 2015
Harvest Moon
Cackle under the Harvest Moon.
by Draayder
Slimy Swamp
Slog through a Slimy Swamp.
by Midori88
Swarming Darkness
Shiver in the Swarming Darkness.
by Leephon
September 2015
Habitica Market
Shop in the Habitica Market.
by UncommonCriminal
Habitica Stable
Tend mounts in the Habitica Stable.
by UncommonCriminal
Habitica Tavern
Visit the Habitica Tavern.
by Bambin
August 2015
Pyramids
Admire the Pyramids
by minac
Sunset Savannah
Stalk across the Sunset Savannah.
by Bambin
Twinkly Party Lights
Dance under the Twinkly Party Lights!
by RosieSully
July 2015
Ruins of Dilatory
Dive to the Ruins of Dilatory.
by Twitching
Giant Wave
Surf a Giant Wave!
by minac
Sunken Ship
Explore a Sunken Ship.
by MimiAlves
June 2015
Drifting Raft
Paddle a Drifting Raft.
by TetoIsGreat
Shimmery Bubbles
Float through a sea of Shimmery Bubbles.
by beffymaroo
Island Waterfalls
Picnic near Island Waterfalls.
by UncommonCriminal
May 2015
Marble Temple
Pose in front of a Marble Temple
by painterprophet
Mountain Lake
Dip your toes in a Mountain Lake
by hazel_
Pagodas
Climb to the top of Pagodas
by TetoIsGreat
April

2015

Cherry Trees
Admire the Cherry Trees in blossom.
by kmcallah
Flowering Meadow
Picnic in a Flowering Meadow.
by Rattify
Gumdrop Land
Nibble the scenery of Gumdrop Land.
by painterprophet
March 2015
Spring Rain
Dance in the Spring Rain.
by Sunstroke
Stained Glass
Admire some Stained Glass.
by Kiwibot
Rolling Hills
Frolic through the Rolling Hills.
by UncommonCriminal
February
2015
Blacksmithy


Labor in the Blacksmithy.
by Twitching
Crystal Cave


Explore a Crystal Cave.
by Holseties
Distant Castle


Defend a Distant Castle.
by Bambin
January
2015
Ice Cave


Descend into an Ice Cave.
by Rattify
Frigid Peak


Summit a Frigid Peak.
by Kiwibot
Snowy Pines


Shelter amid Snowy Pines.
by Sunstroke
December
2014
Iceberg


Drift upon an Iceberg.
by Holseties
Winter Twinkly Lights


Stroll between trees bedecked in festive lights.
by RosieSully
South Pole


Visit the icy South Pole.
by McCoyly
November
2014
Starry Skies


Gaze at the Starry Skies.
by Draayder
Sunset Meadow


Admire a Sunset Meadow.
by Holseties
Harvest Feast


Enjoy a Harvest Feast.
by Kiwibot
October
2014
Graveyard


Visit a Creepy Graveyard.
by Kiwibot
Haunted House


Sneak through a Haunted House.
by Sooz
Pumpkin Patch


Carve jack-o-lanterns in a Pumpkin Patch.
by afiregender
September
2014
Thunderstorm



Conduct lighting in a Thunderstorm.
by UncommonCriminal
Autumn Forest



Stroll through an Autumn Forest.
by krajzega
Harvest Fields



Cultivate your Harvest Fields.
by UncommonCriminal
August
2014
Volcano



Heat up inside a Volcano.
by Draayder
Clouds



Soar through the Clouds.
by Kiwibot
Dusty Canyon



Wander through a Dusty Canyon.
by Kiwibot
July
2014
Open Waters



Enjoy the open waters.
by Breadstrings
Coral Reef



Swim in a coral reef.
by Draayder
Seafarer Ship



Sail aboard a Seafarer Ship.
by Batsukaman
June
2014
Beach



Lounge upon a warm beach.
by artemie
Fairy Ring



Dance in a fairy ring.
by Draayder
Forest



Stroll through a summer forest.
by InspectorCaracal
The following purchasable backgrounds (with their release dates, titles, artists, and descriptions) are available in the Time Travelers shop. These special backgrounds cost 1 Mystic Hourglass each, rather than the usual gems cost of the above backgrounds.
Steampunk Backgrounds January 21, 2020
Steamworks


Build mighty contraptions of vapor and steel in a Steamworks.
by An4ous and beffymaroo
Clock Tower


Situate your secret lair behind the face of a Clock Tower.
by An4ous and beffymaroo
Airship


Become a sky sailor on board your very own Airship.
by gawrone and beffymaroo
Some of the backgrounds will "tile" meaning that if two adjacent party members are using the same background, the touching edges of the backgrounds will match. The tiling backgrounds are:
Community content is available under
CC-BY-SA
unless otherwise noted.