Announcements
[
]
April 1, 2021
[
]
On April Fools' Day 2021, Bailey announced:
HAPPY APRIL 1!
It's a quiet day in Habit City on April 1. Too quiet. Everyone knows today is April Fool's Day, and that Habitica's master trickster the April Fool would never miss an opportunity to create a little bit of playful chaos.
"What do you think the April Fool could be up to?" Beffymaroo says to SabreCat, as they enjoy the sunshine near Study Buddy Magic Bubble Tea Shoppe. "I haven't heard a peep from him, but I can't believe he'd sit the day out!"
"I'm not sure!" replies SabreCat, taking a look around Productivity Plaza. "There isn't any raucous music coming from anywhere, no signs of any strange new creatures about, no wafting smells of delicious treats. The sounds coming from my stable are the same as usual! Gryphons calling, Flying Pigs oinking, Cacti ... being quietly pointy. It's been a tiring year, even for Habitica's most productive and helpful citizens. Maybe he's laying low for once."
A face peeks out from around a rosebush, softly growling.
"Oh, speaking of pets, I think that's my Tiger Cub letting me know she wants attention," said Beffymaroo, turning to offer some chin scratches. "Wait, WHAT?"
A blue and white tiger face looks back at them! What is going on? Habiticans all around the Plaza are exclaiming at the strange look of their once familiar companions. It's only after several minutes of confusion that the April Fool stumbles out from behind Max Capacity Labs, his hair smoking slightly. All the colors of his body, face, and hair are all wrong, too!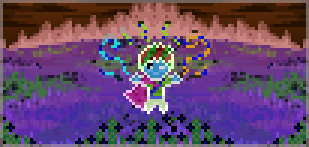 "Oh my..." he muses, scratching his head. "I'd meant to open a gateway to a parallel dimension and invite our alternate dimension selves in to finish all our tasks for us today. After all, I think after a tough year we all deserve a day to goof off! But it seems like messing with the dimensional gateway did something else... I suppose I should be grateful it reversed my colors and those of our pets and mounts instead of summoning some kind of eldritch horror."
Well... everyone has an off-year, even the Master of Rogues! For now, enjoy the offbeat looks of your inverted pets. Sometimes it's worth enjoying what you created even if it's not what you intended!
Try equipping different pets to see their strange new look for today.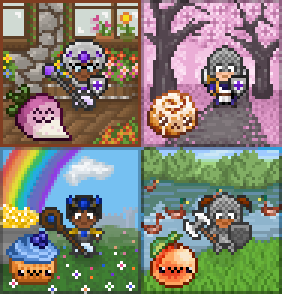 Return of Garden and Confection Magic Potion Pets!
[
]
In celebration of the storied history of the April Fool's hilarious pranks, you can purchase the limited Confection Magic Hatching Potion Quest from the Quest Shop between now and April 30 (8PM Eastern)! Each quest completion awards participants three potions each. Confection pets do not have mount forms, so keep that in mind when you're purchasing.
Garden Potions have also returned, if you prefer a healthier treat! You can find them in the Market until April 30 at 8PM Eastern time. Keep in mind that Garden pets also do not have mount forms when deciding how many to purchase.
After they're gone, it will be at least a year before the Confection Magic Hatching Potion Quest or the Garden Magic Potions are available again, so be sure to get them now!
by Beffymaroo, Piyo, Viirus, and SabreCat

April Fool's Social Media Challenge
[
]
For even more fun, check out the Official Habitica Challenge posted especially for today! Share your avatar featuring your new inverted pet on social media between now and April 5, and you'll have a chance to win Gems and have your avatar featured on the Habitica Blog!
by Beffymaroo and SabreCat

Pet Changes
[
]
On April 1, 2021, all pet colors were inverted.
Hero Changes
[
]
Some Heroic Heroes (Staff) had changes to their titles and contributions in the Hall of Heroes.
| Name | Contribution Tier | Title |
| --- | --- | --- |
| April Fool | 9 | Topsy-Turvy Trickster |
| beffymaroo | 9 | Sweet Cuppin' Cake |
| Piyowo | 9 | Perfect Precious Cinnamon Bun |
| SabreCat | 9 | Master Confectioner |
| paglias | 9 | Chocoberry |
| Apollo | 9 | Dang ol' Dango |
| Lemoness | 9 | Lemoncake Sorceress |
| viirus | 9 | Pâtissier Extraordinare |
| redphoenix | 9 | Chief Sugar Spinner |
| lefnire | 9 | Underwater Burrito |
Official Habitica Challenge
[
]
An official challenge appeared. Players could share their inverted pet avatars on social media for a chance to win gems. A blog post showed the winners' screenshots as well as other favorite inverted pet avatars.